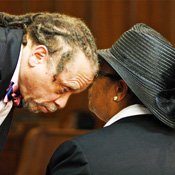 LaRita Cooper-Stokes has asked a judge for a new hearing in the case of the Ward 3 Jackson City Council runoff election.
A jury unanimously awarded Cooper-Stokes' opponent, Joyce Jackson, a new election June 8 after a week-long hearing in which Jackson claimed wide-spread voting irregularities including voter coaching, campaigning within 150 feet of the polls and one poll manager calling Jackson a racial slur.
Imhotep Alkebu-lan, Cooper-Stokes' lawyer, said he filed a motion for a new trial Monday, June 18, with Judge Richard McKenzie. Hinds County appointed McKenzie, of Hattiesburg, to oversee the election challenge.
Alkebu-lan said they are asking for a new hearing because the jury was not properly instructed on the law during the first hearing. He said that the jury was supposed to decide a winner of the election, based on the vote count and evidence of invalid votes. They were not, he said, supposed to set aside the election in place of a new one.
He also said Jackson's evidence was insufficient in the first hearing.
"Her allegations were all nameless," Alkebu-lan said. "She didn't provide any of the names of the poll workers who, allegedly, improperly assisted the voters in casting their votes, nor did she name ... the voters who were improperly assisted in voting."
Before Alkebu-lan and Jackson's lawyer, John Reeves, made closing arguments during the first hearing, both sides agreed to the instructions the judge gave to the jury. The purpose of the instructions was to inform the jury on the law, how they were to determine the legality of the election and what action they were to take once they made a decision.
Reeves said that during the first hearing, Jackson did not have to prove that the voting irregularities changed enough votes to give Cooper-Stokes the victory, if she could show proof of intentional violation of the law. The jury unanimously found in favor of Jackson.
After the verdict, McKenzie ordered a new election to put the choice back into the hands of Ward 3's voters. By law, the city council must set the date for the election. City Clerk Brenda Pree confirmed that the vote for the election date will be on the agenda at the regular council meeting June 26, and the law requires the council to set the election within 20 to 30 days later.
McKenzie will hear Cooper-Stokes' motion for a new hearing Thursday, July 28, at 10 a.m. in the Hinds County Circuit Court.
Previous Comments
ID

167952

Comment

This was John Reeves' reaction to Cooper-Stokes' motion for a new hearing based on claims of inadequate jury instructions when I called him this afternoon: "If what they're saying is correct, then why did they agree to that jury instruction?" Reeves said. "They agreed to it, you were there. They agreed to it.

Author

Jacob Fuller

Date

2012-06-21T13:16:52-06:00