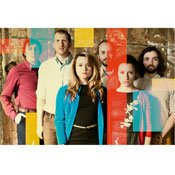 On June 21, Lost in the Trees performs at Duling Hall alongside Daytona. The orchestral folk band features songwriter Ari Picker on guitar and vocals; Andrew Anagnost on cello; Jenavieve Varga on violin; Mark Daumen on bass and tuba; Kyle Keegan on drums; and Emma Nadeau on the French horn, keyboard and vocals.
The group, based out of North Carolina, has released three albums since forming five years ago. Picker wrote the latest album, "A Church That Fits Our Needs," in remembrance of his late mother, who is pictured on the cover.
"If I spend a lot of my time making music, then I want it to be something that's important and artistically fulfilling—not just making music for the sake of making music," Picker says. The album is "a reflection on life and death, lyrically speaking. Musically speaking, it integrates more modern orchestral style of music with songwriting."
Picker cites Radiohead, Bartók and Shostakovich as influences on his writing. He describes his work as artful. "I try to write beautiful music that's artful and interesting, poignant and has emotion to it," he says.
Daytona and Lost in the Trees perform at Duling Hall (622 Duling Ave., 601-362-8440) at 7:30 p.m. The tickets are $12 at the door and $10 in advance, and they can be purchased on ticketmaster.com or at Babalu Tacos and Tapas and Morningbell Records and Studios.