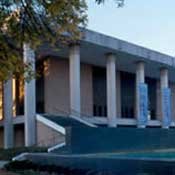 Today, the Priced to Move Pop-Up Art Gallery opens at 5 p.m. at the former Eastland Federal Courthouse (245 E. Capitol St.) and runs through June 17. The even is free; find Priced to Move on Facebook. Fred Hammond, Byron Cage and Canton Jones perform at the Inspiration Celebration Gospel Tour at 7 p.m. at the Jackson Convention Complex. Free tickets; for information visit http://www.mcdonaldsgospeltour.com. The play "Behind the Pulpit" is at 8 p.m. at Thalia Mara Hall, and features Bernadette Stanis ("Good Times"), Keith "Wonderboy" Johnson and Calvin Richardson. There will be an encore show June 16. Tickets are $25-$32; call 800-745-3000. Passenger Jones performs at Ole Tavern. Renegade is at Olga's. Stevie J and the Blues Eruption play at F. Jones Corner. Larry Brewer is at Georgia Blue. Need more options? See our Best Bets.
On Saturday, the Father-and-Child Fishing Tournament is at 8 a.m. at Old Trace Park (Post Road, Ridgeland). The event is free and prizes will be given; call 601-853-2011. Author Shirley Hall-Williams signs "No Place for a Woman" at 9 a.m. at Cups in Clinton (101 W. Main St., Clinton). $11.76 book; call 888-361-9473. The 40th annual Bentonia Blues Festival kicks off at 9 a.m. at Holmes Farm (313 Wilson-Holmes Road, Bentonia). Admission is $10, $5 parking; call 662-528-1900. Celebrate Juneteenth at 10 a.m. at Tougaloo Community Center (318 Vine St.; call 601-979-1413) or Battlefield Park (953 Porter St.; call 601-979-1530). The event is free. The Hollingsworth Gospel Concert is at 6 p.m. at Hinds Community College, Raymond (501 E. Main St., Raymond), in Cain-Cochran Hall's Hogg Auditorium. Proceeds benefit the Robert Wallace Hollingsworth Family Law Enforcement Scholarship Fund. Donations welcome; call 800-446-3722. The Go'Diva Under the Stars Fashion Show is at 8 p.m. at Highland Village (4500 Interstate 55 N.), at center court. Tickets are $25 in advance, $30 at the door and $40 for VIP; call 601-291-9946 or 769-218-8862. The Nameless Open-mic is at 9 p.m. at Suite 106. $5 admission, $3 to perform; call 601-720-4640. The Weeks, Asheral and Kingston Springs perform at 9 p.m. at Duling Hall (622 Duling Ave.). Admission $10; call 601-292-7121 or 800-745-3000. The Gills, Spacewolf and JAG play at Martin's. Time to Move performs at Hal & Mal's. John Causey and Company are at Ole Tavern. For more events, check out the JFP Events Calendar.
On Sunday, Art House Cinema Downtown at Russell C. Davis Planetarium (201 E. Pascagoula St.) features the opera "I Vespri Siciliani" at 2 p.m. ($16) and the independent film "4:44 Last Day On Earth" at 5 p.m. ($7). Refreshments sold. For information visit msfilm.org. The Juneteenth Arts and Music Festival kicks off at 3 p.m. at the Mississippi Museum of Art (380 S. Lamar St.). The event is free; for information email [e-mail missing] or [e-mail missing]. Eclectic Sundays debuts at The Med Grill at 8 p.m. with music from DJ Phingaprint, drink specials and more. Call 601-956-0082. Also, be sure to take some time to support a local restaurant such as Bon Ami, Two Sisters Kitchen, Julep, Cool Al's, or Cerami's. If you want more dining options, see
JFP Restaurant Listings and the Menu Guide.
Is something missing? To make sure your event is listed on the JFP calendars, send the information to [e-mail missing] or [e-mail missing], or add your event yourself. It's easy!
More like this story