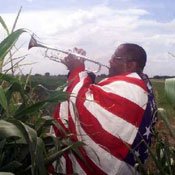 If Belzoni native Dr. Ron Myers had his way, every state in the nation would celebrate Juneteenth this month.
Since 2000, Myers has advocated to make Juneteenth into a national holiday.
Juneteenth is the celebration of June 19, the day Texas announced the abolition of slavery in 1865, several years after President Abraham Lincoln signed the Emancipation Proclamation. "As of today, 41 of the states recognizes Juneteenth as an important day in black history," Myers says.
Myers, a minister, physician and jazz musician, is the leader of the National Juneteenth Campaign. Modern-day Juneteenth events recognize "Juneteenth Jazz" with heritage and arts festivals, and incorporate jazz music in a variety of ways. "Jazz is a dying art form," Myers says. "It isn't as popular as today's rap or R&B. ... We have to make special time to preserve and remember jazz or it will be lost."
Jackson's Juneteenth events include "Emancipation through Education" on Saturday June 16, at Battlefield Park (off Terry Road) from 10 a.m. to 1 p.m., which will include kid's face painting, preventive health screenings, HIV rapid testing, space jumps, health information, food and more. For more information, call 601-979-1530.
The 2012 Juneteenth Arts & Music Festival will be Sunday, June 17 at the Mississippi Museum of Art (380 S. Lamar St.). This event is free and features live music, food, storytelling and more. Call 601-960-1515 for more information.