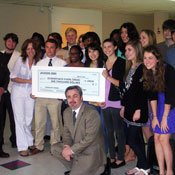 For more than 20 years, local nonprofit Jackson 2000 has worked to improve the social, political and economic climate of the city of Jackson through dialogue about race. A group of concerned citizens, including former Mayor Russell C. Davis and then-president of Alcorn State University, Dr. Walter Washington, founded Jackson 2000 in 1989.
Jackson 2000 uses a multi-dimensional approach to bridging racial divides. With dialogue at the heart of its activities, the organization recognizes the importance of engaging stakeholders from every part of the community––individual to governmental. Its activities include monthly luncheon discussions, collaboration with like-minded organizations and dialogue circle groups.
"Dialogue circles are one of the most important programs that we do," board member Dominic DeLeo said. "It's a way to get people from diverse backgrounds together to talk about race."
As a non-profit, member-driven organization, Jackson 2000 relies on donations from its members and fundraising. There are numerous tiers of membership available, and the non-profit's major fundraising activities include its annual Friendship Ball and golf tournament. After covering operating expenses, Jackson 2000 gives back to the community through grants to eligible organizations.
Jackson 2000 will hold its 2012 Spring Social at the Smith Robertson Museum off High Street (528 Bloom St., 601-960-1457) June 14 at 5 p.m., featuring food and music by Jazz Beautiful. Free. Everyone 21 and older welcome.