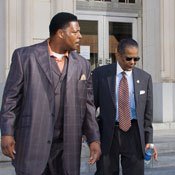 JACKSON — The late Mayor Frank Melton may well be smiling from his grave over the good fortune bestowed by Gov. Haley Barbour and the city of Jackson to two of the troubled men he mentored over the years.
Robert Earl Henderson Jr., 40, and Aaron Brown, 41, were just two of a long list of pardons that Barbour granted on his way out of office in January: Henderson for previous sentences for cocaine possession and receiving stolen property in the 1990s; Brown for murdering Kenneth Smith on Lynch Street in 1997, allowing him to walk out of prison a free man with a wiped slate.
Both men were well known inside Melton's circles: Henderson, also known as "Too Sweet," credits Melton with saving him from a life of crime and was by the mayor's side throughout his 2009 federal trial for leading a group of police officers and children to destroy a Ridgeway Street duplex.
Brown showed up in Melton's life when he was only 12, sent to live in his home by Frank Bluntson, then the director of the Hinds County Youth Detention Center and now the city council president.
In an odd twist of fate, Henderson is now working for Bluntson as a paid city intern, in a role the council president called "a field guy."
Bluntson, who defended Melton's duplex demolition, said Henderson works 18 hours a week going out to visit city residents who call in about problems--such as city property with overgrown weeds. "He comes back and gets it solved," Bluntson said of Henderson. "Folks get sick and tired (of the problems)."
Document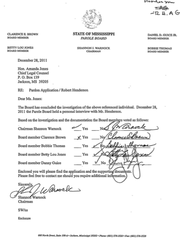 The council president said he met Henderson when his long-time friend Melton ran for the mayor's office. "He helped Frank in his campaign," Bluntson explained Tuesday. "... He did the same thing in Tyrone Lewis' campaign." Lewis ran for sheriff twice--once unsuccessfully in 2007 with support of then Mayor Melton and then successfully last year. During the first race, Henderson was listed as the contact for a fund raiser for Lewis at Melton's home in north Jackson.
On his pardon application (pdf 4.2MB), which the state Parole Board received Jan. 9, 2012, Henderson listed Lewis as his top reference. His other references were Hinds County District Attorney Robert Shuler Smith and The Rev. F. L. Blount. Henderson listed his current employer as Socrates Garrett of Garrett Enterprises and owner of the Mississippi Link newspaper where Henderson published his pardon request notice in late December.
State Sen. Alice Harden wrote the letter of recommendation in Henderson's pardon file, calling him "well respected in the faith community" and saying that he is "dependable, energetic and honest."
The parole board voted 3-2 against recommending Henderson for a pardon with only Chairman Shannon Warnock and board member Clarence Brown voting in favor.
Barbour, however, felt differently and granted the pardon for Henderson, who now serves as an associate minister at the Greater Tree of Life Baptist Church in Jackson.
Bluntson said Tuesday that he hired Henderson "for the same reason (Frank Melton) hired Louis Armstrong ... to give him a sec ond chance. ... Armstrong is one of the best employees in the city."
The feds convicted Armstrong, a former Jackson City Council president himself, of felony extortion and bribery in 1999. Melton raised local eyebrows when he brought Armstrong back to city government in 2005. Now Armstrong helps run the city's "Second Chance" program. (See page 10.)
Bluntson, who is running for mayor, said that Henderson's 18 paid city hours "have nothing to do with my campaign." He added that he and Henderson have not "gone back and discussed" his criminal past, that he relies on his late friend's trust of Henderson and doesn't need to look at things he's done in the past: "Frank Melton told me how much he helped him. ... Why not give a person a second chance to see how they do?"
Henderson's pardon file shows that he was indicted in the 1990s as a habitual offender and pled as non-habitual and was sentenced Dec. 5, 1997. He was released in 1999 and discharged from probation March 4, 2002. He reached out to the JFP in 2008, during the paper's critical reporting of the mayor and his past, to tell us that Melton had helped him recover from his criminal past.
He wrote in his parole application that he had worked with Melton "by helping organize and hire under-privileged, high-risk youth."
Reached at the same number two weeks ago, Henderson set an appointment last week at the Wendy's on High Street to talk about Melton's mentorship, but did not show up or return subsequent phone calls.
The record of Aaron Brown, also pardoned by Barbour (but not a trusty), is more disturbing by comparison: Thanks to Barbour, he walked free after serving 15 years of a life sentence for the murder of Kenneth Smith at the Cool Breeze pool hall in Jackson. Neither the attorney general's office, the Mississippi Department of Corrections or the state Parole Board could supply any records on Brown, other than Barbour's Executive Order No. 1274. None of the agencies was consulted before Barbour pardoned Brown.
The order stated that Brown was sentenced on Aug. 26, 1997, for murder and was "previously sentenced for crimes of concealed weapon and possession of control substance in Hinds County on Dec. 12, 1990." He was 26 when he was convicted, according to records acquired by the JFP.
Further research shows that Brown unsuccessfully appealed his murder conviction in March 2000. According to the Court of Appeals decision, Brown shot Smith to death "in the course of an argument" in the parking lot of the Cool Breeze.
Smith's girlfriend testified that Brown drew a 9-millimeter pistol from under his coat and shot Smith multiple times.
In interviews with the Jackson Free Press from 2006 to 2008, Melton mentioned Brown multiple times as one of the ones he failed, bemoaning the fact that he had ended up in prison. "Aaron is another kid I worked with very closely. Aaron also is brilliant. Aaron, right now, should be retiring from the NFL, but he's in Parchman for the rest of his life. [Aaron] is one of the smartest kids I've dealt with in my life. And Frank Bluntson is the one who brought me Aaron Brown, when Aaron was 12 years old," Melton said.
Melton was referring to the troubled children and teens that Bluntson, as head of the youth detention center, "sent" to him to mentor in his home--a controversial practice that led the Jackson Police Department to investigate Melton's dealings with young people in the early 1990s especially because he was never a trained or certified foster parent, yet managed to fill his home with young men.
One of those investigations centered around the murder of Robert Lamont Sheppard, who was 15 when youth court Judge C.A. Henley signed an order for him to live with Melton. Several years earlier, between 1985 and 1987, when Sheppard was between 11 and 13 years old, he accused Melton of inappropriate sexual contact, but those files were missing from JPD by the time police investigated Melton's mentoring in the 1990s.
Melton often brought up Sheppard in interviews, hoping to clear his name. He told me in 2008 about Sheppard: "I beat his butt, put him in the car and took him home, and his mama filed assault charges against me, and the judge dismissed the charges appropriately so, and the kid goes out and gets himself killed."
Sheppard did not go right out and get killed, however. Police reports put the assault charge in the mid-1980s; he was not killed until Nov. 17, 1992. His murder at the Dairy Bar occurred when he was 18, the month after then JPD Chief Jimmy Wilson launched a related Youth Detention Center investigation that revealed the earlier unresolved investigation of Melton's relationship with Sheppard and others.
Another young man, Augusta Ball, was convicted of killing Sheppard at the Dairy Bar, but had escaped to New Orleans before his apprehension. Aaron Brown, the man Barbour pardoned in January for murdering Kenneth Smith, had helped him escape after Sheppard's murder--before Melton retrieved Ball and got him to confess."The boy that took (Ball) to New Orleans was Aaron Brown. He admitted it to me," Melton said in 2008.
Brown's current whereabouts are unknown, and he could not be reached for comment for this story.
Read more about The Mysteries of Frank Melton and the JFP complete Frank Melton archive here.
Previous Comments
ID

167882

Comment

BTW, we just linked a portion of Henderson's pardon file above, including his application, which lists his references. One curious thing is that he says in it that he was never abused alcohol or drugs, but was ordered in 1997 to receive mandatory alcohol and drug treatment. I don't know if "mandatory" means that everyone has to receive it as part of the criminal procedures, or if it was because the court believes he was abusing.

Author

DonnaLadd

Date

2012-06-07T15:39:13-06:00
ID

167883

Comment

Bump. Fascinating material and great reporting.

Author

Brian C Johnson

Date

2012-06-07T15:40:06-06:00
ID

167884

Comment

Thanks, Brian. And our friends at WLBT were right on schedule -- following my story yesterday with a report late this afternoon that Henderson is now working for Bluntson. Funny that they attributed it to a concerned caller. ;-)

Author

DonnaLadd

Date

2012-06-07T17:02:31-06:00