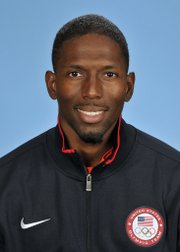 UPDATE, Aug. 6, 2012: Jackson State track sensation Michael Tinsley has won the silver medal in the 400-meter hurdles. The Associated Press reported today that two-time Olympic gold medalist Angelo Taylor staggered to the finish in the men's 400-meter hurdles for fifth place in a race won by 35-year-old Felix Sanchez of the Dominican Republic, who beat American Michael Tinsley to the line.
U.S. Olympic track team member Michael Tinsley was born in Little Rock, Ark., on April 21, 1984. He attended Pulaski Robinson High School and later enrolled at Jackson State University, where he majored in criminal justice.
Tinsley is the only JSU track athlete to win a Division I National Championship. He won the 2006 NCAA Outdoor 400-meter hurdles championship with a time of 48.25 seconds and finished third in the 2005 NCAA Outdoor Championships. Tinsley also won three NCAA All-American championships at Jackson State. After winning his 400-meter hurdle title, the school declared June 15--the day the event was held--"Michael Tinsley Day."
Tinsley could be peaking at the right time. He was the surprise winner of the 400-meter hurdles at the U.S. Olympic Trials with a time of 48.33 seconds. This is Tinsley's first Olympic berth and his first U.S. championship win. His previous best at the 400-meter hurdle nationals was a third-place win in 2010.
Qualifying heats for the 400-meter hurdles are Aug. 3 and Aug. 4, with the finals Aug. 6. Many Olympic fans consider Tinsley one of the favorites for a medal after winning the U.S. trials in Eugene, Ore.
NBC, MSNBC, CNBC, NBC Sports Network and Bravo are some of the television channels broadcasting Olympic coverage this year. Check your local listings for specific times.
More like this story