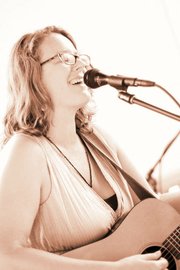 Some of Laurel Isbister Irby's most influential moments occurred during live concerts. Isbister Irby, who is performing at the JFP Chick Ball along with Wes Hughes and Loye Ashton as Lazy Jane, shared her favorite shows.
• The Flaming Lips at Hangout Music Fest
During the concert, members of the Flaming Lips passed a ball of yarn to the front of the audience, creating an intertwining web. "It took the crowd into a more ritual involvement," Isbister Irby says.
• The Ruminants at FIGMENT Jackson
"The improvisation took on such life," Isbister Irby says. No one in the band nor the audience knew what would happen next. Seeing people she knew on stage inspired her.
• Emily Baker at Sneaky Beans
Baker's performance was "a blend of celebration and vulnerability," she says.
• Eric Stracener at a Tara Blumenthal yoga class
Stracener played "Highway 49" on his acoustic guitar during savasana (the classic last pose of every yoga class). "There's something so beautiful about that live sound and that connects," she says.
• Holy F*ck at Moogfest
Isbister Irby says she was inspired by the way Holy F*ck mixed experimental and danceable music together.
• Michael Franti and the Spearheads at Hangout Music Fest
Isbister Irby saw people crying with ecstatic joy. She loves the way that people didn't hold back their emotions, and she wants to learn to create this feeling.