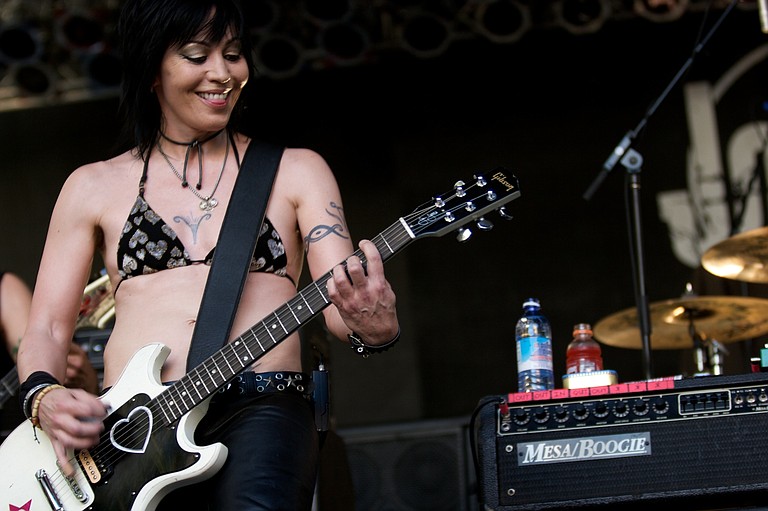 As I did the music listings this week and worked on this article, I thought about our upcoming annual JFP Chick Ball and how much it means to me. I also thought about how hard the Chick Ball committee works to find a dynamic assortment of women entertainers here in the City With Soul. And while I am thankful for all the wonderfully talented women in this town, I can't help but wonder: Why are there not more women expressing themselves musically?
It's not because this city's female population is untalented—I've seen too many girls with the potential to be wonderful performers at open-mic nights and karaoke around here. Why aren't more women musicians up front and running toe-to-toe with successful male bands here in Jackson? And why, when I did the listings, out of 100 shows, could I only count six female singers in the lineup?
I'm not sure I know the reason behind it, but I will tell you from my point of view that maybe some women feel like they can't measure up in music because it is a predominately male domain, and has been since the beginning. Tammy Wynette, in an interview years ago, talked about how women singers were considered "property" at the bars they performed in, and were pretty much seen like that in the recording studio.
From my experience performing, I've had my fair share of guys come up to me with negative criticism on my singing and one even told me my ass needed to be in a kitchen somewhere, not behind a microphone. I've also had great talks with lots of my girlfriends who love music as much as I do and are knowledgeable about the history of music, and we've discussed how some guys cannot stand it for a girl to know more about music than they do.
And what have we as women done in the past when someone got mad at us for being a music lover? Backed down, or tried to keep upping the score by going even further with how much musical knowledge we know, only adding fuel to the fire. As my hero Joan Jett said in an interview, "People don't want to see women doing things they don't think women should do."
Someone mentioned to me the other day that women in Jackson are too competitive when it comes to music. I call BS on that. Of all the women musicians in this town, I can't think of a better group of women I'd rather work with and hear play live. We've all gotten along and even sang along when our bands are playing. As one couple from Austin, Texas, said to me at Parlor Market's PM Burger event, "Man, all of you seem like one big family."
I could not agree more. We are a family, not just in music, but in every aspect this city has to offer. I encourage the girls who are out there that want to play or perform in Jackson to do so.
Find a guitar player, get up a band of musicians who share your vision of what you want to do musically, learn how to play an instrument, write songs, take vocal or instrument lessons, and don't be scared of expressing yourself because of what someone might say (because, let me tell you, someone is going to say something negative at some point). Shake off any negative and derogatory comments that come your way.
It is our time, ladies, to step up to the mic, and find our own musical voices. There are too many music enthusiasts in this town that would appreciate more women singing their songs and expressing themselves. We have the support and, of course, you have my support. Go out and find your voice. I'll be there to sing along with you, too.
Joan Jett is one female rocker Natalie Long looks up to.
Lizzie wright