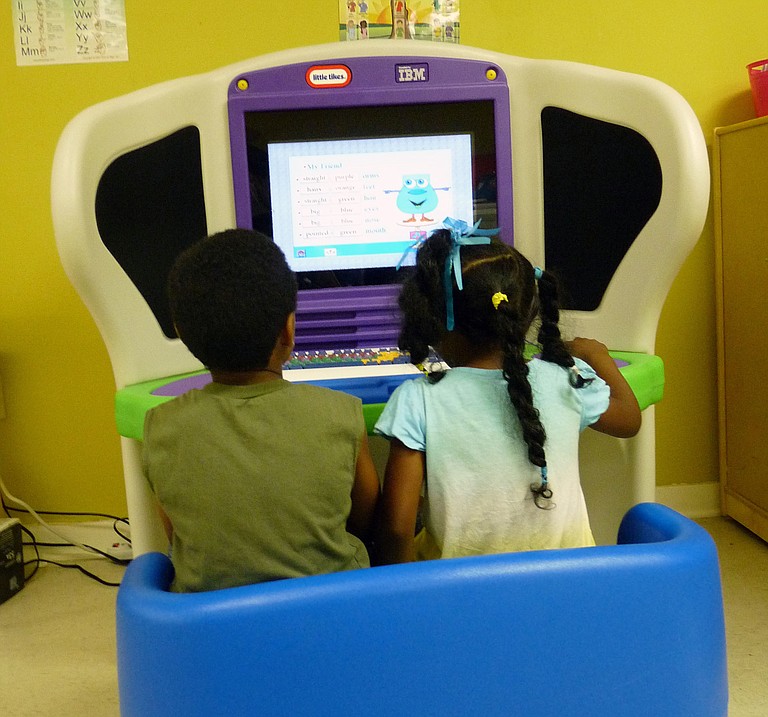 Several rows of colorful shelves stacked full with board games, jump ropes, bikes, books and construction paper greet arrivals as they walk through the doors of Jackson's Excel-by-5 Parent Resource Center at Midtown. All these items are available for families to check out and use at no cost. The center is one of three organizations that recently received a new addition to its tools for children from the United Way of the Capital Area.
United Way received a grant from IBM, a multinational technology corporation, for three Young Explorer learning centers last week. These colorful computers help children develop critical reading, math and language skills. United Way distributed them to partner organizations within its tri-county area that shared in its goals to increase literacy for children. The other two area recipients of the learning centers are the Prosperity Center of Greater Jackson and the Canton Public Library.
Mandy Scott, director of marketing at United Way, said the organization applied for the grant because of its work in early education and preparing children to be developmentally ready for school by age 5.
"The children think they are playing. The computers are really interactive, and they have lots of sound," Scott said. "We watched these kids one day and they were just having a ball but they are actually learning."
Eileen Beazley, Director of Early Childhood at the Resource Center at Midtown, has good ideas for how this computer can help people in the community. Beazley was interested in the computer to help increase young children's literacy skills but also for the assistance it would bring parents with their literacy fluency skills.
"The more confident the parents are and the more they practice (reading) and feel comfortable with it, the more they are modeling it for the children," Beazley said.
The Young Explorer program tracks children's development as they use the computer.
"It will be helpful for schools in the community if they have a child that they might want to have some extra help," Beazley said. "They can come in here and use this and see how that child is progressing with their skills."
Children begin developing learning skills from the moment they are born, she said.
"Children are learning to read up until third grade, then after (that they're) reading to learn. If you don't have that strong literacy foundation in those early years, it's going to put you further behind later," Beazley said. "So this (computer) helps increase those skills whether they are behind or on target."
The Excel-by-5 Parent Resource Center at Midtown is located at 301 Adelle St., and is open Monday through Friday from 8:30 a.m. to 5:30 p.m., and the first Saturday of each month from 9 a.m. to noon. Call 601-965-8000 for more info.
The Prosperity Center of Greater Jackson is located at the same address. The contact number is 601-354-5373.