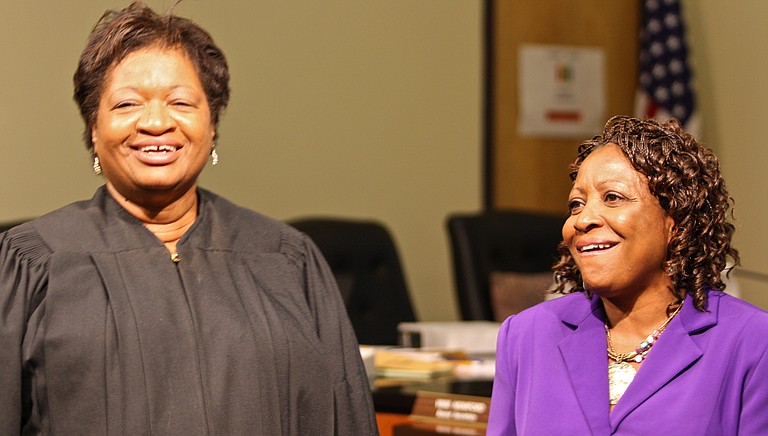 A new era has officially begun at the Jackson Public Schools.
Citizens and city leaders packed the JPS meeting room Wednesday for new Superintendent Cedrick Gray and Ward 3 board representative Beneta Burt's first JPS board meeting.
Gray said he feels welcomed so far by the people of Jackson. Jacksonians have offered more than words, he said. They've offered an "attitude of gratitude," which he hopes to return.
"Someone can say thank you, and not be thankful," Gray said. "My grandaddy used to say it like this; 'Folks are talking loud, and ain't saying nothing.'"
As for Gray, he said he is not a loud person. He prefers to let his past and future work speak for itself.
"As we enter a new phase in the history of Jackson Public Schools, we are also entering into a new dimension, where we are all going to join hands and fight the good fight," Gray said. "We are calling that, 'building strong schools together."
Gray emphasized that the work to be done in JPS is not a one-man job. He said he, the school board and everyone in the city of Jackson has a great deal of work to do to improve JPS.
JPS may soon begin looking for more funds to build a new elementary school at 1520 W. Capitol St. The school, which will replace Barr and Poindexter elementary schools, has been in the works since early 2012.
The 2006 JPS bond program allocated $4 million to renovate Barr Elementary, but JPS decided building a new school would be better than renovating the old one. JPS allocated another $8 million, for a total budget of $12 million to build the new school.
After demolition of the old school, asbestos abatement, payment to JH&H Architects to design the new school and purchasing the land, JPS has $11,432,919 remaining to build the structure.
Executive Director of Facilities and Operations Fred Davis said that's not enough. The lowest bid on the project was more than $13 million. With additional professional fees and furniture, the total cost would be about $14.6 million, he said. That means JPS is short about $3.2 million to complete the school.
JPS is working with the contractors to try to get the cost of the project down. Davis said it may take about two weeks for engineers and contractors to look over the project and find ways to cut costs that will not lower the quality of the school. He said his department will make sure students and parents will not lack anything that children get at other JPS schools.
To cut costs, Davis said JPS has already cut the student capacity of the school from 550 to 425, and that he would try to find more funding if necessary. The board and citizens at the meeting responded to Davis' mention of requesting more funds with loud laughter, aware that school districts across the state are cutting their budgets.
"We hope and trust that (Davis) can get this done," school board member Timothy Collins said at the meeting.