Document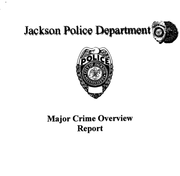 JACKSON — Homicides in the city of Jackson are up 84 percent over last year.
Through the week ending July 12, there were 35 homicides in Jackson compared to 19 last year.
It's part of a trend that includes a 13.3 percent in overall increase in violent crime from last year and drops of more than 17 percent in property crimes, including auto burglary and theft, grand larceny and home burglary.
Total major crimes, which includes property and violent offenses, are down 13.8 percent from 6,441 through this time last year to 5,555 so far in 2012.