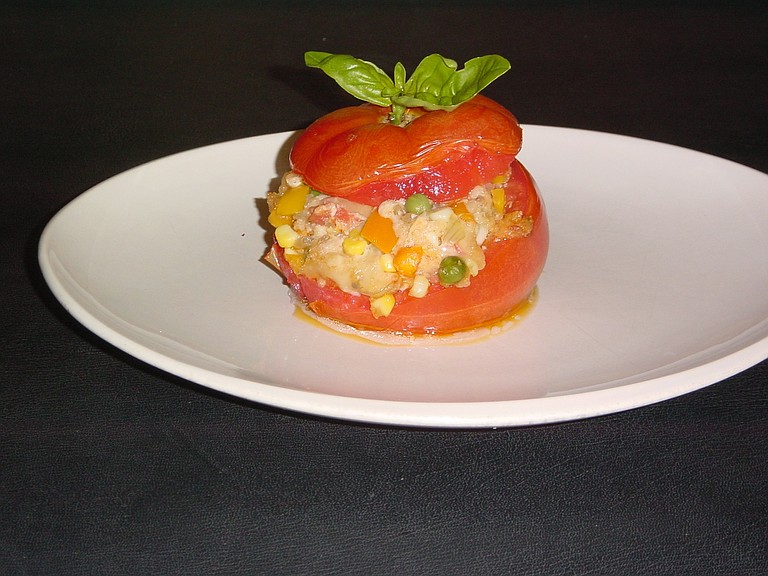 One of the joys of summertime for foodies is the abundance of fresh tomatoes. Whether you grow your own, have a generous friend who shares their bounty, or frequent our local farmers markets, now is the time to really enjoy this delicious and healthy fruit. Tomatoes are technically a fruit, but because they have much less sugar than other fruits, people generally consider them a vegetable for culinary uses. Health nuts rave about their benefits, as tomatoes contain lycopene, which is an antioxidant that can help prevent certain kinds of cancers.
There are more than 7,500 varieties of tomatoes ,and local gardeners have their own favorite varieties. One that has made a recent surge in popularity among home growers is the heirloom tomato. This variety comes in different colors, shapes and sizes and has a sweet taste.
The first time I tasted a Creole tomato was when I lived in New Orleans briefly before Hurricane Katrina. It was a memorable and delicious experience. It was as sweet as an Heirloom and as juicy as a Beefsteak. In my excitement at my new discovery, I invited friends for the Creole Tomato Festival (which is scheduled for June 29 this year) ,and we braved the heat and the crowds to roam the French Quarter looking for Creole tomatoes. Either we headed out too late, or early shoppers had purchased the supplies before we arrived, but the only Creole tomato we saw was someone dressed as a giant tomato passing out flyers.
I rested easy, knowing I had a few left over from an earlier shopping trip. There are thousands of ways to enjoy this summer staple, but here are a couple of my favorites.
Green Tomato Relish My mother used to make this tart and flavorful relish. An ice-cold scoop alongside hot foods or topping a summer hotdog is a welcome burst of flavor.
1 scant peck green tomatoes (a peck is 1/4 of a bushel and about 13.25 lbs) 20 onions 1 medium head of cabbage 8 green bell peppers 8 sweet red peppers 1/2 cup salt 1-1/2 quarts white vinegar 3 cups water 9 cups sugar (half white and half brown) 2-1/4 teaspoon turmeric
(Wrap the following in a cheesecloth bag) 1-1/2 tablespoons celery seed 1-1/2 ounces whole allspice
Coarsely chop the vegetables and add a half cup salt. Let this stand overnight and drain the next day. Add vinegar, water, sugar and spices. Bring to a boil and simmer for 10-15 minutes. Pour into jars and seal.
Makes 14 pints.
Stuffed Tomatoes
Easy and aesthetically appealing, this dish is good on its own with a salad or served along side summer barbecue.
5 strips thick-sliced bacon, diced 6 large tomatoes 1/2 cup onion, diced 1 teaspoon garlic, minced 1 cup fresh corn kernels 6 ounce bag spinach 2 cups cornbread, cubed 1 cup reserved, chopped tomato pulp 3/4 cup Parmesan, divided and shredded 1/4 cup fresh basil, thinly sliced Reserved bacon Salt and pepper to taste
Preheat oven to 350 degrees. Sauté bacon over medium heat until crisp (about eight to 10 minutes). While bacon is sautéing, cut off and reserve tomato tops. Scoop out the pulp with a melon baller or spoon, leaving a half-inch thick wall of flesh inside the tomato. Transfer pulp to a colander and invert tomatoes on a plate to drain while making the filling.
Heat two tablespoons of the bacon drippings over medium heat. Add onion and garlic and sweat three to four minutes, or until tender. Stir in corn, cook, three to five minutes and then add spinach; sautéing until it wilts.
Off heat, combine the corn and spinach mixture with the corn bread, tomato pulp, half cup Parmesan, basil, reserved bacon, salt and pepper. Fill tomatoes with about a half cup of filling (amount will vary depending on their size) and arrange in a 7x11-inch baking dish.
Sprinkle tomatoes with remaining Parmesan and replace tomato tops. Bake 15-20 minutes or until heated through and tomatoes are tender.