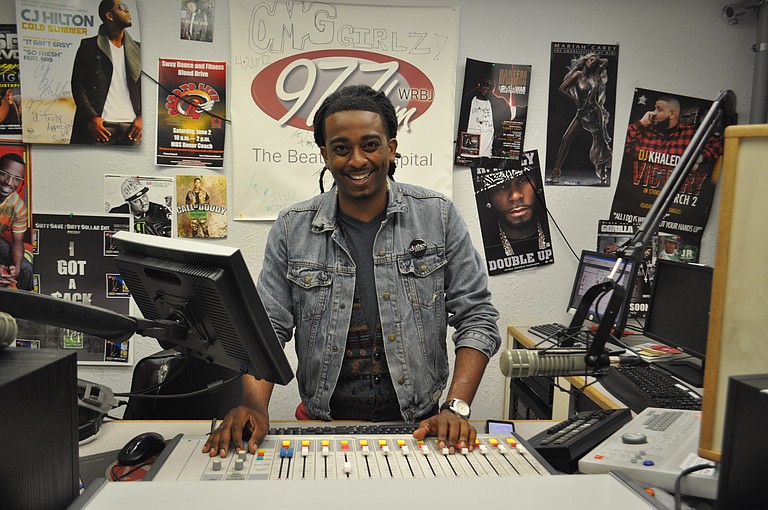 Timothy Orey has wanted to entertain people since he can remember. His first taste of performing was in 2005 with the brotherhood F.I.N.E. (Focused Intelligent Negroes Excelling), started by friends who shared passions for dance, music and art. Three years later, he became a background dancer and choreographer with the Jackson-based R&B group Recognition, a gig that lasted four years.
"Performing was my escape from everything else, and my chance to let go, zone out and embrace the experience," Orey says.
In summer 2009, he began interning at WRBJ 97.7, and he's been with the station ever since. As deejay "Mr. European," from 
5 a.m. to 10 a.m. weekdays, Orey plays popular R&B and hip-hop. He also deejays at local clubs, such as the Mansion, Freelon's, the Martini Room and Slicks, and has emceed fashion shows for Jackson State University and Tougaloo College.
At 97.7, Orey works to inform as well as entertain. The station's audience consists mostly of teens and young adults, and 24-year-old Orey does his best to let them know what's happening in their community, giving them news and event info. "Pretty much anything they want to know, myself and the 97.7 crew will have them informed," he says.
Last year, Orey and a group of friends started the apparel line Clothes Minded. The concept was simple: Design something original to fit their tastes. Clothes Minded designs sold well at Swell-O-Phonic in Fondren, and Orey hopes to bring the $20 shirts back soon. Visit areyouclothesminded.com 
to see the designs.
Orey's first hometown is Chicago where his grandparents raised him through middle school. He moved to Jackson in 2001 to stay with his mother, and his favorite Jackson neighborhood is Fondren. "I enjoy the city-like vibe, art and the rich culture," he says.
In his second hometown, Orey strives to make a difference with Jackson's youth. He sees talented young people in sports, academics, music and art, but he also knows that "the wrong crowd" can have a negative influence. He stresses that young people should never underestimate their potential or put limits on how far they can go. "Always know your worth and what you can bring to the table," he says. "Think outside the box, be creative, be you. ... I would love to see the younger generation motivated and helping each other."
At 97.7, Orey adds his positive energy to the music, news and important discussions to keep things relevant for his 
young audience.
"Know that opportunity doesn't always come knocking at your door, so take advantage of every situation and be sure to set standards," he says. "Before anyone can help you, you must first help yourself."