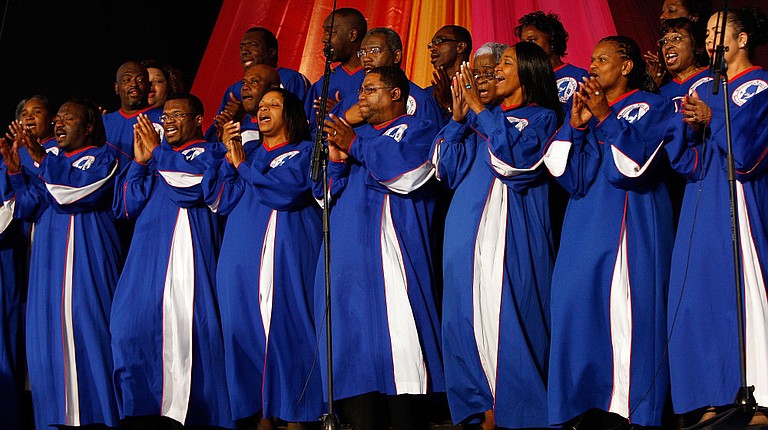 It all started with a blues band, an 11-year-old and a drum set. McComb native Jesse Thompson began playing drums in a blues band before he was even a teenager. Music stuck with him and, despite attending Jackson State University as an environmental science major, Thompson went on to found the Jackson Music Awards 38 years ago.
"In 1974, a handful of musicians and radio stations had an event on Monday nights called Jamboree, and we got together at club Checkmate and we decided to take one of those nights and have an award night," Thompson says. That casual night grew over the decades to become a widely-attended award ceremony for the whole community.
The Jackson Music Awards Association will present "Music Lasts Forever," the 34th annual Mississippi Gospel Awards on July 29 and the 38th annual Jackson Music Awards the following evening.
Harvey Watkins and Stan Jones, local gospel artists, will host the Mississippi Gospel Awards, where presenters will give out numerous awards in more than 20 categories, including a special honor for pastor of the year.
The next night, the Jackson Music Awards, hosted by local radio and television personalities Rob J and Alice Marie, will present awards in more than 30 categories, including several specifically for locals, such as entertainer of the year, blues artist of the year, male and female vocalists of the year and R&B group of the year.
Sponsored by the City of Jackson, Marriott Hotel, Mercedes-Benz of Jackson, the American Blues Network and the Greater Jackson Arts Council, JMA uses these two award programs to recognize, promote, encourage and showcase the talent of Mississippi entertainers. In addition, every year JMA donates to its adopted charity, the Special Olympics.
Thompson's advice to aspiring artists is to "identify what you want to do in the business. Find your niche!" But he also offers concrete advice from his own years in the business. "Always remember to dot your I's and cross your T's," Thompson says. "There are many ways to break out into the business today. With media outlets like YouTube and television shows broadcasting all the talented people out there, new artists have to be prepared to bring something new to the table," he says.
Thompson says it's vital to have a plan. "You have to know what it is you can do to make money," he says. "You do not have to be a singer; you can write and produce. You can earn a living as an arranger, an engineer, a producer ... there are so many things you can do. If you want to be in the music business, get somewhere where people can see you." The music awards are a good example of bringing together artists with and allowing them to network.
Thompson has more than four decades worth of knowledge working with and in the music industry. He formed his own group in 1970 out of McComb called Unique, a five-man vocal doo-wop group. While attending Jackson State University, the group changed their name to The Composers but kept the same vocal style. One of the members of the group was Willie Norwood, father of celebrity singers Ray J and Brandy.
After college, Thompson managed and produced a group called Freedom and with them, produced four albums including billboard topping songs like "Dance Sing Along" and "Get up and Dance," which has been covered by a number of artists and used on sound tracks for movies. Thompson also promoted concerts for artists such as Luther Vandross, Prince, and Earth, Wind and Fire throughout his career.
Many of the skills Thompson learned over the years he now lends to the Jackson awards shows, bringing together a diverse group of artists. "I'm looking forward to special guests like the Mississippi Mass Choir, Genita Pugh, Noo Noo and Lil Walker Boyz," Thompson says.
"We're featuring music that has been around in both genres for years. ... On Monday night our legendary R&B award will go to Lenny Williams. He was the lead singer of the group back in the '70s called the Tower of Power and went on a solo career, and he will be our special guest," he says.
Although the awards are not just for locals, Thompson says one of the missions of the association is to highlight music in Mississippi and especially the capital city, as well as bring music lovers together. "Music is one thing we all have in common that keeps us together," Thompson says. "I enjoy live music, producing music and being around musicians."
The Jackson Music Awards Association presents "Music Lasts Forever," the 34th annual Mississippi Gospel Awards July 29 at 5 p.m. and the 38th annual Jackson Music Awards July 30 at 6 p.m. at the Marriott Hotel (200 E. Amite St.). Tickets for both events are available at the Mississippi Coliseum Box Office for $20 general admission and $30 reserved seating and also online at http://www.jmaainc.com.