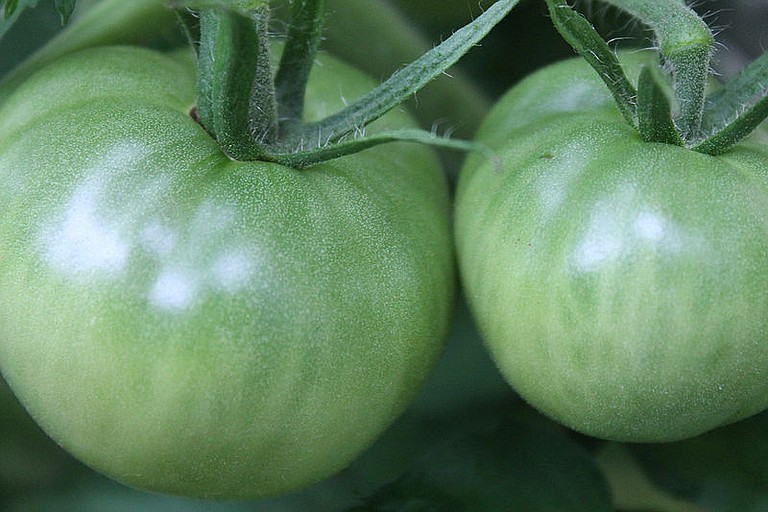 Nothing can beat the taste of a large plate of fried green tomatoes. I mean, this is truly a southern dish. Take a large glass of lime Kool-Aid, some pulled barbecue pork, smothered cabbage and a slice of cornbread, and you have a meal fit for a southern king. Just don't forget the plate of fried green tomatoes.
I was in the kitchen the day after Memorial Day, recuperating from a high school reunion and trying to decide what to cook. I looked in the refrigerator and found two green tomatoes and a head of cabbage that I'd forgotten were in there. I had some pulled pork from the pig we roasted for the reunion. I made sauce for the pork, smothered the cabbage, fried the tomatoes, cooked corn bread and made me some lime Kool-Aid.
The results? Heaven. Sometimes the simplest ingredients can yield the most sensational meal.
Fried Green Tomatoes
2 large green tomatoes
1/2 cup self-rising cornmeal
1 tablespoon salt
1 tablespoon black pepper
1/2 teaspoon garlic powder
1/2 teaspoon onion powder
1/2 cup olive oil
Mix all ingredients except tomatoes in a small container. Wash and dry the tomatoes, then slice them to 1/4-inch thickness. Batter the tomato slices in the meal mixture and shake off any excess.
Heat a skillet (non-stick or cast iron) on medium heat using a half cup of olive oil. Let the oil get hot. To test the oil, drop one drop of water into the hot oil. If the water causes the oil to sizzle, it is hot enough to fry the tomatoes.
Place the tomato slices, sides not touching, into the oil until golden brown on both sides. Remove from oil and place on paper towels to soak up any excess.
This should yield about 14 slices. If it were me, it would only be one serving. In fact, I happily ate the whole thing myself.