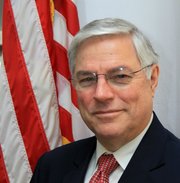 Mayor Chuck Jordan is about to declare Greenville, Miss., the Hot Tamale Capital of the World.
Mayor Jordan will announce the title in front of Greenville City Hall. Greenville, with a population of 35,000, is the largest city in the Mississippi Delta. It recently announced a festival for October: 2012 will be the first year for the Delta Hot Tamale Festival in honor of the popular dish.
The traditional tamale ingredients include ground pork and corn meal rolled in a cornhusk, adding a spicy mix to the southern-style food of Mississippi.
Greenville is part of the Mississippi Delta Hot Tamale Trail, which encompasses many areas in the Mississippi Delta as well as a few cities in the Gulfport region.
Jordan won the Greenville mayoral race last December with 64 percent of the vote, defeating Democrat Carl McGee. Jordan ran as an independent.
A banker for more than 32 years, Jordan served as the president of the local Chamber of Commerce and sat on numerous community boards. He and his wife, Jane, have two daughters and four grandchildren.