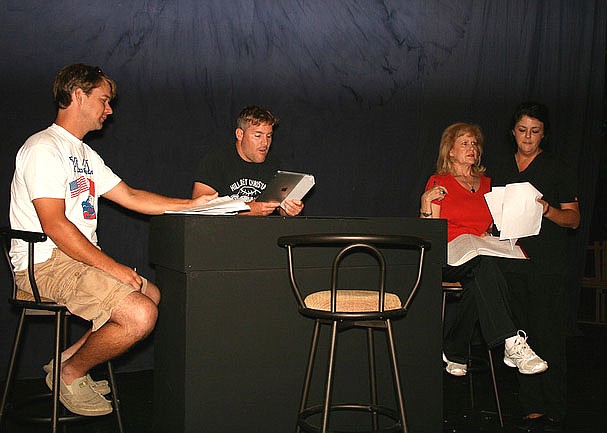 The Black Rose Theater is tucked away on the narrow Black Street in Brandon. You might not even notice it if you're just driving through, but when you get close, the bright pink walls really draw attention. From July 12 to 15, Black Rose is showcasing four works from playwrights in the Jackson area in "A Night of One Acts." The theater's president, Nina Dawson, hopes to bring the community together around the theater.
Inside those bright pink walls, Steve Sutton speaks with a gentle, eloquent voice and a huge smile on his face. You can see the passion for the work the Black Rose is doing in his whole body.
At a rehearsal for the show, Sutton pointed to the actors on stage and asked, "How old do you think they are?" They couldn't have been older than their mid-20s. He explained that the group of young actors was there volunteering their time and talent, because nobody gets paid at the Black Rose. "They're doing it because it's fun," Sutton said, gleefully. All productions are done out of genuine love of theater, with the common goal of getting the community involved.
The audience may find some of the one-act stories familiar, but with original elements shaking things up. Shawn Rossi is bringing "The Kindness of Strangers," a one-act retelling of the classic "A Streetcar Named Desire." This version is set in a real-life bar in New Orleans that refused to evacuate in the aftermath of Hurricane Katrina. Rossi called it her love letter to both "Streetcar" and New Orleans.
Another group of familiar characters will be taking the stage in Ray Dailey's "The Wrath of Frankenstein." Dailey grew up loving "Frankenstein," both the book and the many film adaptations, and hopes to bring a little bit of everything to this production. Dailey says he wanted to "bring out the best of all the characters" that he loves. He includes characters not only from the novel, but also the Universal and Hammer films versions of the story, while still telling much the same story. In a sense, it's a Frankenstein's monster of the many versions of "Frankenstein."
On the lighter side, "The Sterling Candelabra Social Club" by C.C. Henley, is an adaptation of a scene from a larger play titled "Southern Belles Do Tell."
It's a comedy piece about a club selection meeting at a junior college in a fictitious town in Mississippi, performed entirely by one actress playing all of the characters.
The fourth of these one-act plays is "Love at Last Sight" by Sutton and his wife, Virginia, a comedy about love in a retirement home. Sutton said jokingly that his wife "bleeds all over" his work, and it's really his writing with her additions and edits. He wrote his play, he said, just to make people laugh, with "no redeeming qualities" or deep meaning—just something fun to enjoy.
The goal of this particular show is to give people with less experience, who might not be able to stage something they've written at a larger theater, a chance to get their work out in the open, and get the recognition they deserve. It's hard for budding writers to get a larger theater to take a gamble on their work. Dawson hopes that "A Night of One Acts" can become a yearly tradition, showcasing writers from Jackson who might not ever get a chance otherwise.
"A Night of One Acts" is July 12-14 at 7:30 p.m. and July 15 at 2 p.m. at the Black Rose Theatre (103 Black St., Brandon, 601-825-1293). Non-season tickets are $5.