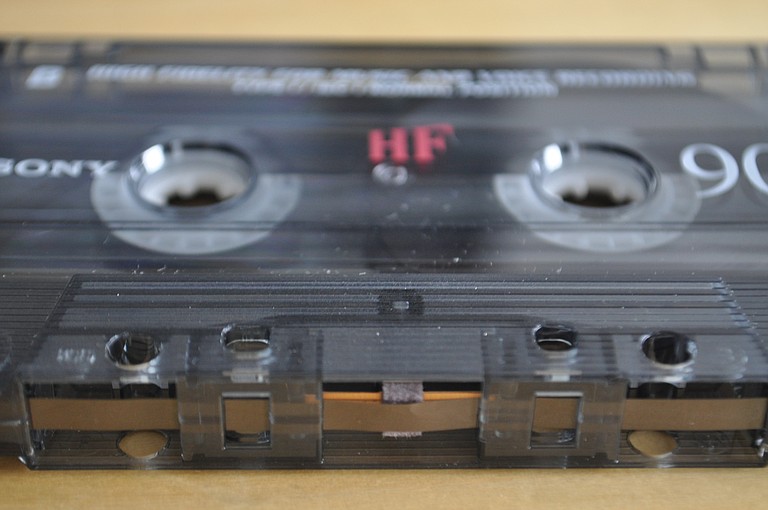 Ah, mix tapes. I know it's illegal now, but back in my day, you brought your pack of Memorex tapes to all the carport dances or slumber parties we had in Bogue Chitto, and you would sit there for hours making copies of your favorite songs. (Does anyone remember getting a tape you hated, putting paper in the top of the little boxes, and rerecording over it if you were low on mix tapes? Yes, I'm guilty of this. I did it to my Rico Suave tape someone gave me for my 13th birthday. Sorry, Julie.)
Years ago, my first "real" boyfriend came along while I was in junior high at Bogue Chitto and made me my first mix tape. While I'm sure his big brother had a hand in helping him make the tape, the songs he put on there changed my music style forever.
As a girl who grew up on two radio stations in south Mississippi (country and western), his eclectic tape of Led Zeppelin, Gorky Park, Pink Floyd, Eric Clapton, and many others lit a musical fire in me that has stayed with me for over 20 years, and for that I thank him for it.
I cannot tell you how many countless mix tapes I made for boyfriends growing up in junior high and high school (some even had me speaking into my "jambox" to give them a commentary on how much their 14-year-old love meant to me and how we'd never be apart—I've got some if y'all ever want a good laugh.) And let's not forget the "we broke up and I can't live without you" mix tape you'd make for your ex with enough sad songs on there that would either make them take you back or date your best friend ... which would only cause you to create yet MORE mix tapes, one for the ex with all of "our" songs, then one for the new girlfriend with songs like, LL Cool J's "Mama Said Knock You Out" or Scandal's "The Warrior."
The other day, I came across a huge crate of mix tapes I made while I was in high school and college. I sat there and played those tapes on my stereo and couldn't help but laugh hysterically at how my musical tastes have changed over the years. I even found a (gasp!) New Kids on the Block mix tape. (Hey, gimme a break. I was 14.) But I was quite impressed that I had some pretty notable artists on these tapes for a teenager growing up with limited exposure to music: Janis Joplin, Linda Ronstadt, Joni Mitchell, Rush, Fleetwood Mac, The Rolling Stones, etc.
I have compiled of list of songs for your summer enjoyment (that I hope you'll nicely and legally purchase on iTunes) so you can have a playlist to enjoy for the rest of this summer.
• "Going Up the Country" — Canned Heat
• "Shove" — L7
• "Ballad of Jayne" — LA Guns
• "Somebody's Crying" and "San Francisco Days" — Chris Isaak
• "Blue Canoe" — Blue Mountain (what's better than enjoying summer with Mississippi's most well-respected band?)
• "Slow Ride" — Foghat
• "California Love" — Tupac Shakur
• "Surrender" — Cheap Trick
• "The Sun in California" — The Autumn Defense (Wilco's Pat Sansone and John Stirratt's side project that rules.)
• "California (All the Way)" — Luna
• "Come On" — Lucinda Williams (best break-up song)
• "Hook" — Blues Traveler (my best guy friend from junior college and I wore this song out in the summer of '96.)
• "Keep On Smilin'" — Wet Willie (a great song to ride the backroads blaring.)
• "El Camino" — Buffalo Nickel (everyone tells me how much they love this song)
• "Shannon" — Let The Music Play
• "Temple of the Dog" — Say Hello to Heaven
• "Summertime" — Janis Joplin
• "Willin'" — Little Feat
• "Dinosaur" — Hank Williams Jr. (a must-have for making a country block.)
• "Head Over Heels" — The Go-Go's
• "The Joker" — Steve Miller Band
• "Eye in the Sky" — Alan Parsons Project
• "You're Only Lonely" — J.D. Souther
• "Tangerine" — Led Zeppelin
• "It Was a Good Day" — Ice Cube (this reminds me of basketball camp)
• "I Won't Forget You" — Poison
• "Fishin' in the Dark" — Nitty Gritty Dirt Band
Have a great week, and please keep supporting live local homegrown music. If you see me out and about, please say hello!