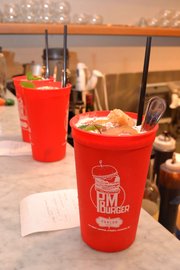 At the crazy popular inaugural PM Burger, one beverage nearly eclipsed the meat, as surprising as it sounds. The Irish Car Bomb Float isn't on the regular Parlor Market menu, but might pop up again at future PM Burger events. In the meantime, I'm sharing our secrets so you can make your own at home. It's the perfect summer drink to pair with backyard-grilled burgers or flame-broiled hot dogs.
Guinness Ice Cream
Ingredients:
4 egg yolks
1/2 cup sugar
1 cup Guinness Draught beer (or your favorite beer)
1 cup heavy cream
2 tablespoons molasses
In a medium bowl, whisk the egg yolks with the sugar until they are a pale yellow. Bring the beer and the cream to a simmer in a heavy-bottom saucepan, then slowly pour over the egg and sugar mixture, whisking constantly to temper the yolks. Return the mixture to the pan and cook over low heat, stirring frequently, until it thickens.
Pour through a strainer into a mixing bowl set over ice and stir until cool. Whisk in the molasses. Freeze in an ice cream maker according to manufacturer's directions.
Bailey's Whipped Cream
Ingredients:
1 cup heavy whipping cream
3 tablespoons Baileys Irish Cream Liqueur
1/4 cup powdered sugar
Place all ingredients into the bowl of a stand mixer and turn on low. Gradually turn the speed up as the mixture thickents, until the whipped cream has stiff peaks.
For the Float:
3 large scoops of Guinness ice cream
1 oz. Shot of Jameson Irish Whiskey
1/2 cup of heavy cream
Blend all ingredients together in a mixer until smooth. Pour into a glass and top with Bailey's whipped cream.
Thick, creamy and filled with Irish alcohol, the Irish Car Bomb Float from PM Burger is an irresistible summer milkshake.