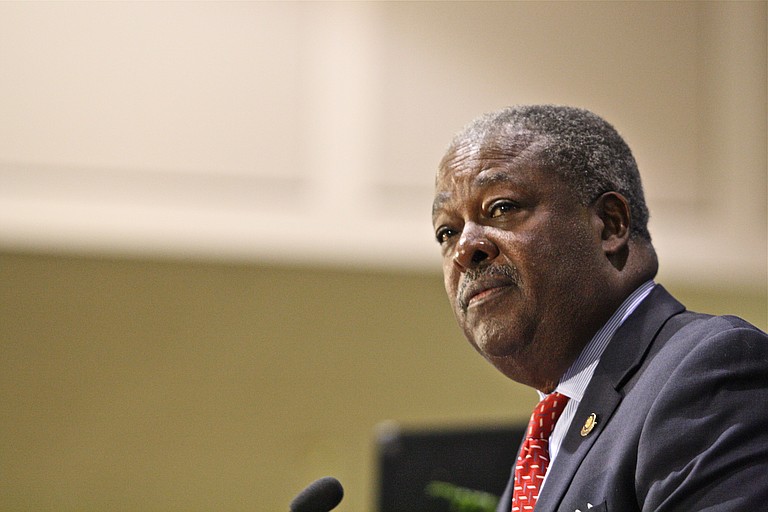 JACKSON — Mayor Harvey Johnson Jr. will face re-election in less than a year, and he is keeping a spotlight on what he says are his accomplishments and goals: development in progress, rising numbers of police officers, falling crime and doing something about abandoned property.
State of the City: Full Address
Read Mayor Johnson'shttp://www.jackso..."> full State of the City address here, unedited.
Those were the focuses of Johnson's State of the City address Wednesday at the Jackson Medical Mall, where hundreds of citizens, law enforcement officials and city leaders gathered to listen to his speech.
Johnson spoke at length, reading his prepared words and looking up to the crowd only during sentence breaks. He talked about a variety of developments during the address. He said the city has supplied nearly $700,000 in small-business grants to about 80 companies under his administration. That money has helped create or retain about 700 jobs in the city, he said.
"Jackson is the only municipality in the state of Mississippi that offers these types of grant funds to sure up support and help our small businesses remain competitive," Johnson said.
He also spoke of big developments, most of which are still in the funding and planning stages, including the Farish Street Entertainment District, the District at Eastover, the Iron Horse Grill, Old Capitol Green and the already-open Jackson Square Promenade in south Jackson.
Photo Gallery
State of the City Address
City Councilman Frank Bluntson, Ward 4, has announced he will run against Johnson for mayor next year. He sat on the front row, with four other council members and rarely, if ever, followed the crowd in clapping for the mayor. He said he didn't know where all these developments were going on that Johnson spoke about.
"I was trying to think about all the stuff (Johnson) was saying," Bluntson said at the Jackson Medical Mall after the address. "I was trying to think about where all that stuff is going on, exactly. I don't clap for things I don't know about. I don't go along with the crowd. I want everybody to go along with me."
Johnson has adopted the slogan, "There is rhetoric, and there is record," early in the campaign season, largely in response to Bluntson's claims of his administration not being business-friendly. He used the slogan again during his address, after talking about a multitude of new businesses and proposed developments in the city. He said the job is far from done, though.
"We have to work harder to revitalize Jackson, not just downtown, but around town," Johnson said. "And we have to energize our citizens to work with us."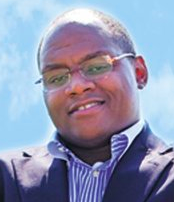 Lee's interview is the first in JFP's series with 2013 Jackson mayor candidates. They will be posted at jfp.ms/mayorsrace as the campaign progresses.
Jackson needs to become a "premier destination" for travelers, Johnson said. With coming attractions like Farish Street and the Mississippi Civil Rights Museum, Johnson believes the city can become a city that attracts young professionals to the join to creative class.
The city has thousands of abandoned houses and properties. Johnson said where there are clusters of abandoned houses that need to come down, and the city has cases on them, the city will tear them all down at one time. He didn't say when that time will be.
The state has to step up and do its part in doing something about abandoned properties also.
"There are around 1,800 tax-forfeited properties in the city of Jackson that are reverted to the state," Johnson said. "We need to either get them back on the tax roll or have the state clean them up, or pay the city to do it. Our taxpayers can't be saddled with that burden any longer."
The last focus of Johnson's address was police and crime, the defining issue in his mayoral-campaign loss to Frank Melton in 2005. He said he promised three new police recruiting classes this year, and the police department has already delivered three, with a fourth on the way this fall. He also promised another three graduating classes in the next financial year.
"We will have 500 police officers on the streets of Jackson," Johnson said.
The Jackson Police Department will begin using "strict and aggressive" patrols to battle crime before it happens, Johnson said. They also will begin using more crime statistics to find patterns in crime to help them predict it before it happens.
The long speech on crime seemed a clear move by Johnson to get the upper hand on opponents and prevent any of them from using an exaggerated focus on crime to win next year's election, as Melton did in 2005.
The numbers back him up, though. Crime in the city is down from this point last year, including a 16 percent drop in property crime, Johnson said.