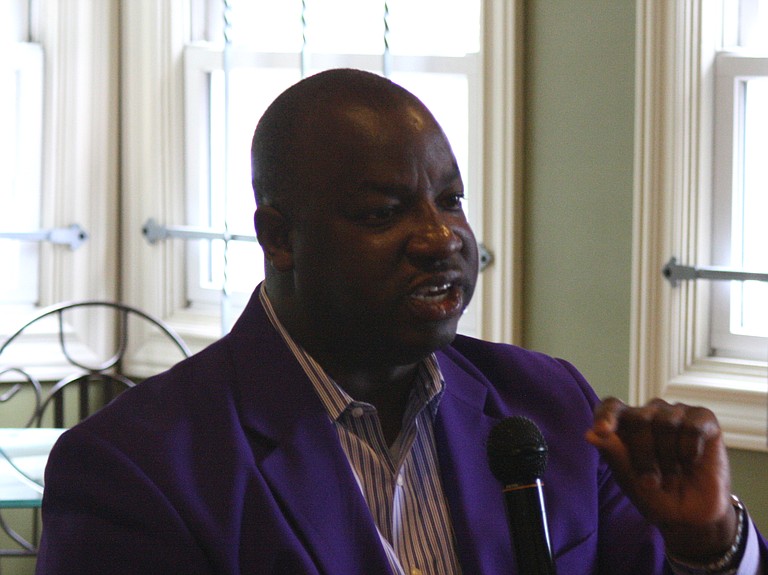 Ask Alcorn State President Christopher Brown why the Alcorn State University Braves will play arch-rival Jackson State University in Lorman this year for the first time since 1992, and he'll tell you: profit. He's not just talking about cash, though.
"There's quantity of profit, and there's quality of profit," Brown said at a community forum at Koinonia Coffee House July 6.
Brown and Alcorn State interim Athletics Director Dwayne White announced this week that the school will exercise its right to hold the football game against JSU in its home stadium this coming Nov. 17. Brown said his commitment is to Alcorn State and Lorman, where he lives and works.
But while money for the university and community was the biggest contributing factor to the decision, it wasn't the only one. Brown said it is not fair for him to rob Alcorn State's 4,000 students of the on-campus rivalry experience other students get to enjoy.
For the past 19 seasons, Alcorn State students have not known that experience. In that time, Alcorn has played the annual game against JSU, known since 1994 as the Capital City Classic, in Jackson every year. During that span, JSU holds a 13-6 advantage in the matchup, including a 51-7 trouncing of the Braves in 2011.
The Jackson Convention and Visitors Bureau offered to pay Alcorn State for transportation, lodging and meals for the football team, athletic staff, cheerleaders, band and student representatives. They also offered to pay for the university's pep rally, the coaches' media luncheon, Classic Golf Tournament, university president's reception and a step show. Altogether, JCVB committed approximately $160,000 to Alcorn to keep the game in the capital city.
Brown said the JCVB would have to offer much more than that to get Alcorn State to hold their games in Jackson. With Jackson making $2.5 million to $3 million from the match, he said both universities should get a larger portion of the profits.
"There is no way they would invite any SEC school or ACC school into this city and offer them what they offered these two SWAC schools," Brown said.
Wanda Wilson, president and CEO of the Jackson Convention and Visitors Bureau, said at Friday Forum that she thought the $160,000 proposal was only the starting point of a negotiation.
Brown said he would consider playing in Jackson every year if the city offered Alcorn State a deal similar to the one it has with Shreveport, La., for its annual game against Grambling State, known as the Port City Classic. The city of Shreveport takes care of all parking, concessions and security personnel, pays the universities' expenses and pays the schools a cash bonus just to show up and play the game.
In Jackson, Brown said Alcorn State has to take care of game-day personnel, including parking and security, and then the city reaps most of the rewards.
"If you come to the table with $500,000 cash and expenses, then we'll have to begin our conversation. That's for both schools," Brown said to Wilson about negotiating in future years.
The announcement of the end of the Capital City Classic comes as a blow to Jackson. The average announced attendance at the annual event has been more than 32,600 since 2002, making it the city's single most-attended annual sporting event. The average yearly economic impact on the city in recent years is upward of $2.5 million.
The attendance numbers differ quite a bit, though, depending on who you ask, Brown said. The city claimed more 31,500 people attended the game last year. Meanwhile, the state Department of Finance and Administration's numbers showed 28,762 in paid parking and about 22,300 people actually walked through the turnstiles at Veterans Memorial Stadium.
"The reason why (Finance and Administration) know is because you have to pay entertainment taxes on (tickets)," Brown said. "So if it is true that there were (31,500), then the city of Jackson owes the state of Mississippi 7 percent on (almost) 10,000 people."
Stadium capacity could be a concern for fans, especially if actual attendance is closer to the city's numbers than the state's. Alcorn State's Jack Spinks Stadium has a maximum capacity of 22,500, compared to Veterans Memorial Stadium's 60,492.
No matter who is counting, the Capital City Classic hasn't come close to filling Veterans Memorial. Brown said a lot of people like to bring up "the great Alcorn State game" in Jackson in 1984. That game attracted 63,808 fans, the largest crowd ever at a football game in the state. But that game was against Mississippi Valley State, not JSU, and it featured wide receiver and future NFL Hall of Famer Jerry Rice.
Mayor Harvey Johnson Jr. Said in a press release that the city and JCVB worked with both universities in an attempt to keep the Alcorn-JSU game in Jackson. "The Jackson Convention and Visitors Bureau, like I, recognize the substantial economic impact the Classic has on the City of Jackson," Johnson wrote in the press release. "Just last year, according to the Jackson Convention and Visitors Bureau some 31,500 people attended the Classic, and it had a $2.5 million economic impact."
Brown said if everything went wrong in Lorman, compared to every aspect going right in Jackson, Alcorn State could make between $30,000 and $40,000 less at home. He expects things to go well, though, and ultimately bring more money to the university and the surrounding communities.
Economic Impact of Capital City Classic:
Average Attendance since 2002 (according to city): 32,600
Estimated Economic Impact on Jackson in 2011: $2.5 million
Estimated Economic Impact on Jackson in 2010: $3.4 million
Jackson Convention and Visitors Bureau' offer to ASU: $160,000
Offer Requested from ASU Pres. Christopher Brown: $500,000
ASU's estimated maximum loss playing game in Lorman: $30,000-$40,000
Comment and email Jacob Fuller at [email protected]