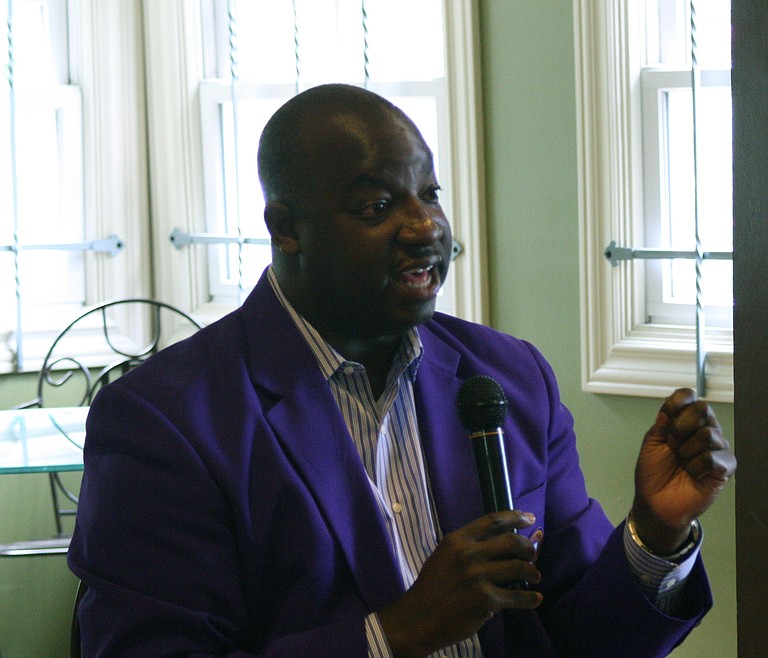 The Capital City Classic is over, for now. The annual football game that Jackson State University and Alcorn State University have played at Veterans Memorial Stadium since 1993 will move to Alcorn State's home in Lorman this year.
Alcorn State University President Christopher Brown and interim Athletics Director Dwayne White announced this week that the school will exercise its right to hold the Nov. 17 football game against arch-rival JSU in its home stadium.
The announcement comes as a blow to Jackson. The Capital City Classic has averaged an attendance of more than 32,600 since 2002, making it the city's most-attended annual sporting event. The average yearly economic impact to the city in recent years is more than $2.5 million.
The attendance numbers differ quite a bit, though, depending on who you ask, Brown said this morning at Koinonia Coffee House's Friday Forum. The city claimed more than 30,000 people attended the game last year. Meanwhile, the state Department of Finance and Administration's numbers showed 28,762 in paid parking and about 22,300 people actually walked through the turnstiles at Veterans Memorial Stadium.
Brown told the JFP that the Department of Finance and Administration obtained their figures based on entertainment taxes on tickets. "So if it is true that there were 35,000, then the city of Jackson owes the state of Mississippi 7 percent on 10,000 people," Brown said.
Mayor Harvey Johnson Jr. said in a press release that the city and the Jackson Convention and Visitors Bureau worked with both universities in an attempt to keep the game in Jackson. He said the JCVB offered to pay Alcorn State for transportation, lodging and meals for the football team, athletic staff, cheerleaders, band and student representatives. They also offered to pay for the university's pep rally, coaches' media luncheon, Classic Golf Tournament, university president's reception and a step show. Altogether, JCVB committed approximately $160,000 to Alcorn to keep the game in the capital city.
"I recognize the substantial economic impact the Classic has on the City of Jackson," Johnson wrote in the press release. "Just last year, according to the Jackson Convention and Visitors Bureau some 31,500 people attended the Classic, and it had a $2.5 million economic impact."
Brown said the Convention and Visitors Bureau would have to offer much more than that to get Alcorn State to hold their home games in Jackson. With Jackson making $2.5-$3 million off the game, he said both universities should get a larger portion of the profits.
"There is no way they would invite any SEC school or ACC school into this city and offer them what they offered these two SWAC schools," Brown said.
Wanda Wilson, President and CEO of the Visitors and Convention Bureau, said at Friday Forum that she thought the $160,000 proposal was the starting point of a negotiation.
Brown said his commitment is to Alcorn State and Lorman, where he lives and works. He said it is not fair for him to rob Alcorn State's 4,000 students of the on-campus rivalry experience that other students get to enjoy.
"If you come to the table with $500,000 cash and expenses, then we'll have to begin our conversation. That's for both schools," Brown said to Wilson about negotiating in future years.
The annual game between the schools has not been played at Alcorn State since 1992. The game in 1993 was called The Turkey Bowl Classic. Jackson State has a record of 13-6 in the 19-year streak of games in Jackson.