This morning, Gov. Phil Bryant signed a modified settlement agreement recommitting to the state's previous commitment to protect Mississippi's foster children.
The new agreement is in response to a suit brought against the state by the New York-based Children's Rights organization. It contains a revised action plan to address the state's Department of Families and Children Services' consistent failure to meet court-ordered performance standards set as a result of the 2004 "Olivia Y" suit.

Document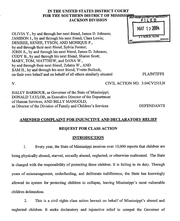 "Mississippi failed to deliver progress the first time around, but with the new commitment in the updated agreement the state's obligation to finally fulfill its promises is even stronger," Marcia Robinson Lowry, founder and executive director of Children's Rights said in a release. "The magnitude of the state's noncompliance has left thousands of children in as much danger as they were when Children's Rights filed its lawsuit eight years ago."
"Last year, a federal judge ruled that Mississippi had not made substantial progress in meeting requirements of the original settlement and ordered Children's Rights and DFCS to negotiate modifications in order to address the slow pace of reform," wrote Tanya Benedicto
, media relations manager
 with Children's Rights in an email to the Jackson Free Press this morning. "The newly released monitoring report, which was filed within a close timeframe of the modified agreement, also reported on a lack of progress at DFCS."