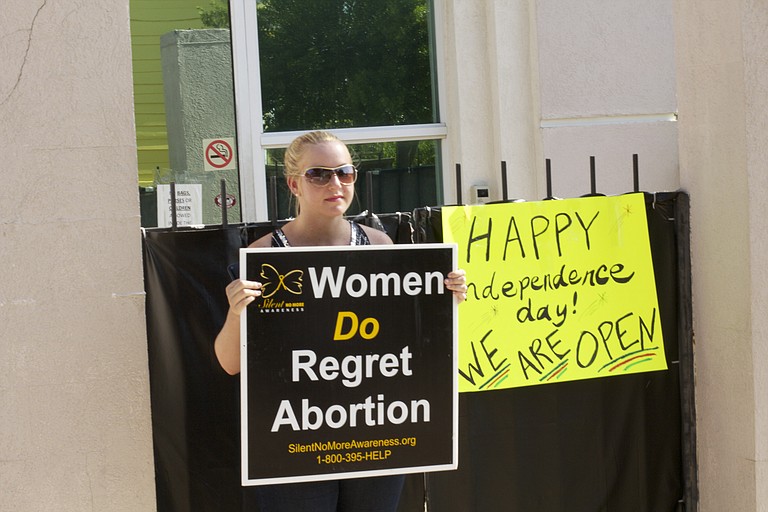 JACKSON — UPDATED: Mississippi's only abortion clinic, located in the Fondren district of Jackson, will stay open at least until July 11.
U.S. District Court Judge Daniel Jordan issued a temporary restraining order July 1, preventing the state from closing the clinic. Jordan set a hearing for July 11 to decide to extend the TRO or not.
The TRO came on the same day that House Bill 1390, which Gov. Phil Bryant signed into law in May, went into effect. The law requires all doctors at the state's only abortion clinic to be board-certified OB/GYNs and have admitting privileges at a local hospital.
Diane Derzis is the president of the Jackson Women's Health Organization, the state's only abortion clinic. She said the doctors at the clinic have applied for admitting privileges. The process is usually a lengthy one, she said, but it will probably be even lengthier for abortion doctors. She said the application was 50 pages long.
"We have made applications to every hospital in this area, except St. Dominic," Derzis said. "They told us not to bother."
Anti-abortion protesters were on the sidewalks outside the clinic at 6 a.m. today. One protester, Ashley Sigrest, said she is the kind of activist most mainstream media don't want to talk to: a woman who has had an abortion.
Sigrest had an abortion at a small clinic in Houston, Texas, when she was 18. She said she was raped, and waited about five months before she had an abortion. If anyone had been outside the clinic in Houston the day she got an abortion, as she was this morning in Jackson, she said she probably would not have had the procedure.
"The regret a woman feels from choosing an abortion is the deepest pain known to man, I have no doubt," Sigrest said. "It's not just the loss of a child. It's you chose to kill your child for whatever reason. That is the pain that is hard to live with. I suffered from post traumatic stress disorder. I drank so much to numb myself. I had horrific nightmares, (that) had nothing, ever, to do with the rape. Once I realized what I did in that abortion, in killing my child, I could care less about the rape."
Posted, Sunday, July 1, 7 p.m.:
A group of pro-abortion rights advocates and lawyers sent out a press statement Sunday night announcing the temporary injunction. Here is the statement, verbatim:
07/01/2012—(PRESS RELEASE) Mississippi officials cannot enforce a new law that would have shuttered the state's last remaining reproductive health clinic offering abortion services after July 1, according to a preliminary injunction granted this evening by a federal judge [TRO attached].
The Center for Reproductive Rights, representing the Jackson Women's Health Organization and Dr. Willie Parker, filed for immediate court action on June 27 to block a new, medically unjustified requirement that any physician performing abortions in the state must be a board-certified or eligible obstetrician-gynecologist with admitting privileges at an area hospital.
Although all the doctors currently employed at the Mississippi clinic are board-certified ob-gyns, the physicians responsible for the lion's share of the clinic's patients have not been able to secure admitting privileges at a local hospital. According to the Guttmacher Institute, less than 0.3 percent of abortion patients in the United States experience a complication that requires hospitalization.
Today's decision, issued by U.S. District Judge Daniel P. Jordan III, will block enforcement of the law at least until a hearing scheduled on July 11.
Said Nancy Northup, president and CEO at the Center for Reproductive Rights:
"Today's decision reaffirms the fundamental constitutional rights of women in Mississippi and ensures the Jackson Women's Health Organization can continue providing the critical reproductive health care that they have offered to women for the last 17 years.
"The opponents of reproductive rights in the Mississippi legislature have made no secret of their intent to make legal abortion virtually disappear in the state of Mississippi. Their hostility toward women, reproductive health care providers, and the rights of both would unquestionably put the lives and health of countless women at risk of grave harm.
"While we are pleased the court has decided to temporarily block enforcement of this medically unwarranted restriction, this battle is far from over. We will continue to fight alongside the Jackson Women's Health Organization to ensure that the women of Mississippi are not relegated to a second class of U.S. citizens, denied the constitutionally-protected rights that other women nationwide are guaranteed."
The lawsuit filed Wednesday —which claims the law clearly threatens the health of women and deprives them of their constitutionally-protected right to decide when and whether to have children—requested both a temporary restraining order to block the DOH's immediate enforcement of the new restrictions as well as further relief to block the new law completely on the ground that it has the unconstitutional purpose of banning abortion in Mississippi.
On June 22, the Mississippi Department of Health (DOH) notified the Jackson Women's Health Clinic it had reversed its decision to follow the state's normal rulemaking process—which would have delayed enforcement of the measure until mid-August—after extraordinary political pressure to fully enforce the law as of July 1.
House Bill 1390 was signed into law on April 16 and was scheduled to go into effect on July 1. Supporters of the measure—including Governor Phil Bryant, Lt. Governor Tate Reeves, and a number of state legislators— have made it abundantly clear the regulations were intended to shut the clinic down.
In fact, most recently the bill sponsor State Representative Sam Mims told Reuters that he was "not at all worried" about dangerous and harmful consequences that can occur when women don't have access to safe and legal abortion services. "My hope is that the women that are making these choices will now choose life, that they will realize that life begins at conception," he said.
Federal courts have struck down unnecessarily burdensome regulations on Mississippi reproductive health care providers in the past. In 2004, the Center for Reproductive Rights successfully challenged a Mississippi law that would have virtually banned abortions after the first trimester, requiring second trimester procedures to be performed in hospitals or ambulatory surgical facilities. A U.S. district judge declared the law unconstitutional, recognizing that it did nothing to protect the health and safety of women who choose abortion despite the state legislature's claims.
In 1996, a federal district court struck down Mississippi regulations requiring physicians performing abortions to have completed a residency in ob-gyn in Pro-Choice Mississippi v. Thompson, stating that the state could not show "there is a reasonable medical necessity directed to preserve the woman's health in requiring ob-gyn residency training for all physicians performing abortions."
The Center filed the suit, Jackson Women's Health Organization & Willie Parker, M.D., M.P.H., M.Sc. v. Mary Currier, M.D., M.P.H. & Robert Shuler Smith, with Michelle Movahed as lead counsel, along with local counsel Robert B. McDuff in Jackson, Miss.
Read more of the JFP's award-winning coverage of the abortion battle in Mississippi.