Wednesday, January 11, 2012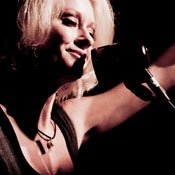 When Shelby Lynne gives a concert these days, she no longer plays any songs from the early part of her career for one simple reason: She didn't write them.
The 2000 Grammy Award winner for Best New Artist performs Jan. 24 at Duling Hall. Her concert includes original music from her past albums starting with "I Am Shelby Lynne," released in 2000, her first recording as a songwriter. The country artist is touring the United States and Canada to promote her critically acclaimed new album, "Revelation Road."
Released Oct. 18, this album is extraordinary because Lynne plays all the instruments as well as sings all the vocals—something that is extremely rare in the music industry. To make it happen, Lynne started her own label, Everso Records. She said it was the only way to create the album.
"Major labels got me where I am in my career, but this album could not have been made by a major label, because they care more about the business than the music," she said. "My manager and I decided to make the album this way, and it was a lot easier and whole lot of fun."
"Revelation Road" features songs Lynne wrote. The lyrics on this deeply personal album examine her life and her family.
"I feel moved by the English language and finding unique ways to say 'I love you,'" she said. "The English language is so broad, you can find all kinds of ways to do it."
Lynne, 43, grew up in rural Alabama in a musical family that listened to old country and rock songs all the time. She started playing the guitar when she was 7. After high school, she went to Nashville with a demo tape. She appeared on a local TV show and got a contract with CBS Records. Her first album included a duet with George Jones.
Five albums later, she decided to write her own songs.
Since discovering her talent for songwriting, Lynne has performed with Big Bad Voodoo Daddy and Dean Martin, performed at a John Lennon tribute, recorded
a tribute album to British singer Dusty Springfield and performed with Sheryl Crow at the 2000 Grammy Awards.
"The fans I have have stayed with me through thick and thin," she said. "My fan response has never really changed, and I'm thankful for that."
Shelby Lynne performs Jan. 24 at Duling Hall in Jackson. Tickets are $28.50 and available through Ticketmaster.com. The show starts at 8 p.m. For information, visit http://www.shelbylynne.com, her Facebook page or follow her on Twitter @shelby_lynne68.
Revelation Road
lyrics by Shelby Lynne
Thought they had it on me
But the truth it lay upon me
Like the Mississippi River runs deeper on the coast
I don't know what happened
I was acting on my passion
Wearing latest fashions, I wandered in the cold
Then it came upon me in a midnight dream
Like honey offers gold
Like a gambler, I can't hide my debts, like a sinner as a soul
Pardon me if I forget what I've already been told
You can't hold that against me man
I'm on Revelation Road
Fire and brimstone pave the way
Hold hands together every day
Nothing left to do but pray and put your head in the sand
Sinners and the preachers at each other's throats
Which one is the bad news man
Which one clatters most
Screaming turns to salt and dust
Volume is not heard
Bible beaters rest your fists
Haters rest your ire
You're both too young to know you're mute
Unconscious to the choir
But I can't hold that against you man
You're on Revelation Road
Grab your little passbooks
A ticket gets you in
One Hail Mary does the trick forgive of all your sins
And when the show is over
You're where you started from
Collecting all the barbs you threw
piled up to be disposed
Judgment comes and never tires
Forgotten is the code
Doing unto others is a farce, a laugh, a joke
Remember when the black veil falls
We all stand alone
Barefeet on the gravel man
We're on Revelation Road
—Shelby Lynne/Swampy Blue
Publishing, with permission