Wednesday, January 11, 2012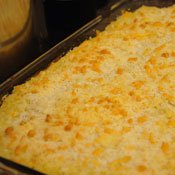 I have only recently discovered that the room housing my coffee pot and takeout menus is a kitchen. A few years ago, I was one of those people who actually bragged that I had no idea how to correctly boil an egg and had no intentions of learning in the near future. In the past year, however, I've been driven by sheer serendipity and financial woes to seek solace over the stove.
I'm in the process of re-making my home. Along the way, I surmised that for me to fully make this house my home, I must prepare food in it. I waxed a bit metaphysical over the idea of cooking. For me, cooking at its core is the simple transfer of energy from one person to another in the form of something ingestible. My grandmothers never spoke of cooking in those terms, but I believe they understood this principle. They would spend hours standing over the holiday dressing, critiquing, stirring, adding to the alchemy in the roasting pan.
The kitchen always intimidated me. Cookbooks with long recipes left me cold; I would shove them to the back of the highest shelf I could find, swearing never to open them again. Fear of culinary failure drove me to the takeout line.
I cannot pinpoint exactly what gave me the impetus to try cooking again. Maybe I just wanted to experience the smells of food wafting through my house. I decided on a whim to cook a brisket, and called my stepfather, an avid cook, and scribbled out the recipe he read to me over the phone.
I discovered something that day. Well, two things: one, brisket takes all day to cook; and two, cooking is therapeutic.
If you've never made anything except coffee, cooking can seem overwhelming. It's really not. Cooking requires organization, time management, some creativity and a willingness to improvise. Don't be afraid. The oven is not a portal to the underworld, I promise. I have some suggestions to assist you along your odyssey through the kitchen:
Read up. Start with simple cookbooks featuring recipes you know you'll like. I recommend Fannie Flagg's "Original Whistle Stop Café Cookbook" (Ballantine Books, 1993, $17). Flagg features simple home-style dishes she gleaned from her favorite cafes, and she spices the book with absorbing narratives between recipes. I have used mine, literally, to pieces. I also love "Best of the Best from Bell's Best Cookbook" (Quail Ridge Press, 2006, $16.95) by Telecom Pioneers of Mississippi.
Start slowly. Step away from the blowtorch. Don't try creme brulee until you've mastered custard. You'll just get frustrated. Stick with simple dishes until you're more comfortable moving to more complex cuisine.
Clean as you go. Yes, I said "clean." It's so much easier to rinse those dishes and load them in the dishwasher while you're cooking than it is to gaze upon the seemingly insurmountable mess piled in the sink after you've partaken of your masterpiece.
Never underestimate your grandmother as a valuable resource. If you're thinking of making it, she's probably already perfected it. She can also help you fix a dish you think is hopelessly botched and ready for the disposal, too. I will offer this warning: Many grandmothers will share recipes, but they've reached such a level of expertise that they don't use exact measurements anymore. They measure by sight. Expect to aggressively, but tactfully, pull measurements out of them.
Keep some staples handy. I keep flour (all-purpose and self-rising), cornmeal, eggs, milk, butter, cooking spray, salt, pepper, garlic powder, vanilla, cinnamon, seasoned salt, lemon pepper, sugar, olive oil and shredded cheese. This is not an exhaustive list, but it will get you started. You can always add as you go. I recommend splurging on a good lazy susan to store your spices.
You don't need professional grade cookware. Start with a sturdy, basic set of pots, a small skillet, a large skillet, a cookie sheet, a couple of oven-safe casserole dishes, a couple of mixing spoons, a hand mixer, a good cutlery set and a cutting board.
Remember, cooking is as much about experimentation and self-expression as it is about producing something you and your guests will love eating. Don't be afraid to add to or stray from the exact recipe.
The Internet stores a wealth of recipes and information on food prep. You can always "fix" a recipe. As you get more comfortable in the kitchen, you'll add your own elements to dishes almost unconsciously.
Make cooking an adventure. Start slow and easy, and make it fun. You might just discover your inner child is also your inner chef.
Mamaw Myrtis' Macaroni and Cheese
Put down that mac 'n' cheese box mix! This is my grandmother's easy macaroni and cheese recipe.
1 egg
1/4 to 1/2 cup milk (2 percent, whole or skim) For creamier consistency, use 1/2 cup.
1 8-ounce bag large elbow macaroni
2 cups sharp cheddar cheese, shredded (You can use more if you like.)
Black pepper
Cook macaroni as indicated on the package. Drain well in a colander and rinse with cold water.
Preheat oven to 350 degrees. Spray bottom and sides of 11-by-7-inch oven-safe casserole dish.
In medium bowl, beat egg and milk together with wire whisk until smooth.
Layer ingredients. Start first layer with half the elbow macaroni. Layer half the shredded cheddar on top of macaroni. Repeat. Cover with milk and egg mixture. Add black pepper to taste. Cover with remaining cheddar cheese. Again, add black pepper to taste. Bake uncovered for 25 to 30 minutes.
Serves four.
Legacy Comments
@ Casey - not trying take over your article, because you made a lot of solid points in this article "You don't need professional grade cookware. Start with a sturdy, basic set of pots, a small skillet, a large skillet, a cookie sheet, a couple of oven-safe casserole dishes, a couple of mixing spoons, a hand mixer, a good cutlery set and a cutting board." My only but to that is, be mindful of what you are buying. Calyphon cookware is the best on the market at this time, but it can be costly. The pots and pans in Freds, Dollar General and places of that nature will burn up on you in days, if not weeks. TJ Maxx, Marshalls and sometimes even Hudsons will have some high quality cookware marked down to Fred and Dollar Generals prices. My cookware comes from Sam's Club and it is the Bakers Chef brand, price is very reasonable, but I understand not evertone has a Sam's Club card, but I'm a bulk buyer in these high gas price days. I've had quite a few people tell me I can open my own business in regards to food, but I'm too critical of my own cooking to do that. I wish everyone the best in their Kitchen endeavors that read this article, there is something magical about good food aromas flowing through the home.
2012-01-17T10:49:54-06:00