Wednesday, January 4, 2012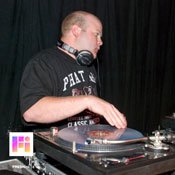 On the first Friday night of every month, strange sounds emanate from Club Volume at the Joint at 206 Capitol St. To the uninitiated passer-by, the fast-paced break beats and deep bass shaking the club's windows probably seem off-putting and he or she simply ignores them altogether. But to the wide array of music fans waiting to go inside, this music, known simply as drum and bass, is the main draw.
What is drum and bass? The short version of a long story goes like this: In the U.K. in the late 1980s and early 1990s, the development of rave culture was in full swing. Early on, variations of house music, with its steady beat in the 120 BPM range, dominated the scene.
By the late '80s, a darker form of dance music emerged that featured break beats in the 160-180 BPM range and deep sub-bass lines that dancers felt in their chests as much as they heard in their ears.
This new genre gained quick acceptance in the underground dance-music scene and by the mid-1990s, drum-and-bass rooms were a major draw in raves all across the world. What sets drum and bass apart within the rave world are the influences in the music. The earliest forms of drum and bass relied heavily on dub and reggae elements for sampling. And like hip-hop, the breaks and syncopated drums of funk and R&B are important.
The link between hip-hop and drum and bass is an important thing to keep in mind. Drum-and-bass rooms at raves back in the day lured me and many others in with break beats and frequent MC performances. The main rooms of raves tended to be all glow sticks and fairy wings; the drum-and-bass rooms were all breakers, bass and taggers.
This connection between the two genres is the fuel behind the new monthly series, Submerged, at Club Volume. "The goal is to bring the bass culture and hip-hop culture together," event co-founder and organizer Nick "DJ 360°" Couch says. "We are merging two subgenres. Submerged."
Jackson's own Tightstep Concept, a crew of drum-and-bass DJs made up of DJ 360° along with DJ Repercussion, Daphya, Monoxide and Sick, holds down residency duties, and each month the club features regional and national drum-and-bass and hip-hop favorites. On Jan. 6, Submerged will host DJ Proppa Bear and DJ Resin, drum-and-bass DJs based in New Orleans.
Feb. 3 will feature Jackson DJ Young Venom and a special performance from Company of Strangaz. This hip-hop group, formed in Jackson in 2001 by MC Michael "Mr. Fluid" Norris and DJ Kaotic, moved to Colorado in 2004, and now works across both states since Norris moved back to Jackson this year.
"Drum and bass is the one thing I've always related to," Norris says. He MCs regularly at Jackson drum and bass events. "You can hear the hip-hop in it, just by the way the snare hits."
For both 360° and Fluid, spreading the word about drum-and-bass and providing a place for genres to come together are the final goals.
"We want to create an open vibe for people to come in and check out some music they maybe haven't heard before," Fluid says.
360° echoes this sentiment: "We are giving an open forum for all kinds of artists to promote themselves and their crews. We want to see a new community form from it."
Submerged goes down on the first Friday of every month at Club Volume at the Joint (206 Capitol St., 601-944-0123). To get a taste of what you might hear, check out "It's Always Something" by Fluid and 360˚, available on iTunes and Amazon.
Previous Comments
ID

165671

Comment

Nice!

Author

dvsmndz

Date

2012-01-06T09:21:03-06:00