Wednesday, February 29, 2012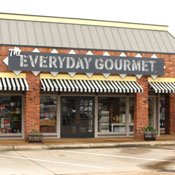 As you browse the wares at The Everyday Gourmet on County Line Road, certain details will immediately grab your attention--like the dangling spoon and fork chandelier, and the sweet, outdoorsy scent from candles and wood products.
Marlana Walters owns The Everyday Gourmet and has an almost all-female staff along with two men who work part time. Walters, 35, graduated from Mississippi State University with a bachelor's degree in marketing and corporate finance. She later attended the school's graduate program for her master's degree in business.
Her journey to owning the business began with a little help from her mentor and The Everyday Gourmet's founder, Carol Puckett. Walters bought the store from Puckett four years ago, but it has been open for 30 years. Recently, Jackson Free Press readers voted the store as the "Best Bridal/Gift Registry" in the Best of Jackson awards for 2012; it also took the "Best Kitchen Store" title in Mississippi Magazine's Best of Mississippi awards in 2010.
"When I got out of school, I thought I knew a lot, but I really didn't," Walters says. She worked for Puckett after graduating from college. "Carol had been doing this for over 20 years. She started The Everyday Gourmet in a little service station over in Fondren and grew it into a really great business. ... Everything she did to start this business is what makes it special--it makes the products we carry unique."
The site of the original Fondren store is now home to The Everyday Gardener (2905 Old Canton Road, 601-981-0273), which Puckett opened in 1992.
While The Everyday Gourmet is not a restaurant, it does sell specialty Mississippi-made foods such as the popular cheese straws, Mississippi mud pies and lemon straws. The store prides itself on being one of the first businesses to support the Mississippi Cheese Straw Factory, a Yazoo-based company.
Walters is a firm believer in buying quality items the first time instead of constantly replacing cheaper things.
The Everyday Gourmet carries cookware brands such as All-Clad, Le Creuset, Scanpan and Viking. It also sells items ranging from cookbooks and tableware to crystal, china and linens. Some of the products are handcrafted and can't be found anywhere else.
"We are about celebrating the art of everyday entertaining," Walters says. "Every day you have and (that) you're able to go and prepare things and share a meal with someone--that is the ultimate bonding experience. ... That's the one time we all have to just stop whatever we're doing and just eat."