Wednesday, February 22, 2012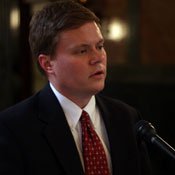 You know things are bad when librarians start protesting. In light of Gov. Phil Bryant's executive budget recommendation that calls for a 15 percent funding reduction for the Mississippi Library Commission, bibliophiles are gearing for a battle to keep library cuts on par with those of other state departments.
In January, Bryant proposed a state spending plan that called for 5.5 percent worth of cuts to most state agencies. He targeted some agencies, such as the MLC and the Mississippi Arts Commission, for cutbacks of 15 percent each.
Sharman Bridges Smith, the MLC's executive director, believes the governor and some lawmakers might have the false impression that MLC is just another state bureaucracy.
"It's important that people understand that not only are we a state agency but we provide services statewide to libraries that provide services to their communities," Smith said. "I don't believe the governor had all the information in front of him."
Smith said the library commission received approximately $12 million in state aid in the current fiscal year, 81 percent of which the MLC passes on to local libraries. Of that money, about $5 million goes toward supplementing the salaries of library employees, while $3.5 million covers library employee health insurance, and $1 million helps pay for MAGNOLIA, a statewide system of electronic databases.
In early February, Smith wrote Bryant a letter highlighting the role of libraries to the governor's legislative agenda. Besides stressing libraries' role in early childhood education and literacy, Smith noted their importance during an economic recovery.
In Mississippi, 37 percent of the 2.7 million people who use the library every year are looking for jobs or filling out online application, and, increasingly, companies only accept online job applications.
Brandon Jones, a former Democratic representative from Pascagoula who now heads the Mississippi Democratic Trust, which supports Democratic candidates and issues around the state, believes the library issue, though not sexy, is an opportunity to educate residents on the legislative budget process and has the potential to galvanize library users all over the state.
"For some people, libraries are the only point of access for the Internet, the only place to access a printer. At the end of the day, there's a certain value to our libraries, and to ask them to take a hit is a pretty big deal," Jones said.
Information from the MLC suggests the agency has already hit been pretty hard. Over the last three years, its budget fell by 25 percent, or more than $3.4 million, forcing libraries to cut staff, scale back operating hours, and shrink what they spend on books and other library materials.
Related Links
[Your Turn] Save the Libraries