Wednesday, February 15, 2012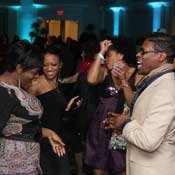 My love for Jackson is pretty unbridled all the time, but certain things send it into overdrive. Top among those are the quintessentially Jacksonian events—the times when a diverse group of people comes together to celebrate what makes this place great, and to eat, drink and dance. Let's face it, Jackson knows how to have a good time. And oftentimes, a good cause benefits from these functions, which is also something that makes our city great—the instinct to take care of others and do good.
Such an event took place on Saturday, Jan. 28, at the inaugural Appetite for Jackson at the Art Garden at the Mississippi Museum of Art (380 S. Lamar St., 601-960-1515, msmuseumart.org). The garden provided a perfect setting for this new festival celebrating Jackson's food and music. What made the event exciting was the spirit behind it.
When television food personality Andrew Zimmern contacted the Jackson Convention and Visitors Bureau about filming an episode of a new show in Jackson, Marika Cackett of the JCVB helped his team realize what Jackson has to offer—a rich food and musical heritage, vibrant culinary community and a downtown in the midst of a renaissance. Partnering with local restaurants and corporate sponsors, a festival celebrating those things was born. In the spirit of community, proceeds benefitted the Miracle League and Craig Noone Rock It Out Memorial Scholarship in memory of the late Parlor Market chef and owner.
Jackson's support and hunger (no pun intended) for events like this never fails to impress and encourage me. The activity downtown went beyond the main event at the Art Garden. Every restaurant and bar downtown was packed that night with people who attended the festival and stayed to enjoy an evening out in the city. I was thrilled for downtown's growth and renewal, and for the hard work and passion that went into pulling off the event. Kudos to Marika, Tom Ramsey, Elise Russell and everyone who helped organize and execute the event (which the Jackson Free Press sponsored as well.)
Right on the heels of Appetite for Jackson came another of my favorite annual events: the JFP's Best of Jackson party. It truly is a celebration of all that's wonderful about this city—the local businesses, people and places that make it special. The party always draws a fun mix of old and young, politicians and businesspeople, and creative types, and there's always great food, drink and a DJ.
This year, the Hilton Garden Inn Downtown (aka the King Edward, 235 W. Capitol St., 601-353-5464) served as a perfect location for the 10th annual party. It was only fitting to celebrate the people who make Jackson amazing in a space that symbolizes in a concrete way that with vision, commitment and collaboration, we can make things happen. For me, highlights of this year's Roaring '20s-themed party included Eddie Outlaw (co-owner of William Wallace Salon in Fondren) dressed as a 1920s newsie, the Cathead Vodka speakeasy lounge and, of course, DJ Phingaprint—because a girl's gotta dance.
Luckily, spring is full of many more events that make for great Jackson days and nights. The major one for me is the Mal's St. Paddy's Parade. It's like my High Holy Day, and with this year's parade being the 30th and actually on St. Patrick's Day, it's guaranteed to be amazing. Also, I look forward to the growing Zippity Doo Dah Parade in Fondren, the return of Downtown at Dusk and more.
Coming in April is the Sante South Wine Festival benefiting the Alzheimer's Association, which will be held at The South Warehouse (627 E. Silas Brown St., 601-968-0100) and features some new events leading up to the grand tasting. Tickets will be available at santesouth.com, so do check it out. It's an amazing opportunity to get up close and personal with the actual winemakers, and whether you're a seasoned oenophile or just starting to learn about wine, you'll enjoy it—and have a great night in downtown.
Follow Julie on Twitter @jcskipp.
More like this story