Wednesday, February 8, 2012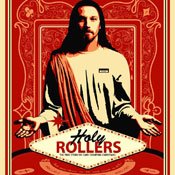 The Oxford Film Festival follows closely on the heels of the Sundance Film Festival, which, in my book, officially launched the 2012 independent film season. Two weeks ago, Sundance founder Robert Redford reassured filmmakers that the Sundance family has still "got their backs," but he cautioned that it's a hard road to sell a film.
"Deal with the reality," Redford said. "Enjoy (the festival) while it's here, but enjoy it like Cinderella at the ball."
Like Sundance, the Oxford Film Festival, which starts Thursday and ends Sunday, provides a fairy-tale experience for filmmakers. (I cherish my memories of screening "Belles & Whistles" at the first Oxford Film Festival, back in 2003). The nostalgic charm of the Oxford square, the literary appeal of William Faulkner and John Grisham—which seems to pervade the tree-lined streets and surround Square Books—and the grandeur of Ole Miss converge to provide a movie-perfect setting for a festival on the cinematic arts.
With only a few days before filmmakers arrive in Oxford, Executive Director Molly Fergusson rushed to complete last-minute festival preparations. Molly is a dynamic combination of lawyer, film producer, community promoter and mega organizer. She worked to organize the first Oxford Film Festival, joined the festival as a co-director in 2004 and became executive director in 2010.
Before moving to Oxford, Molly lived in Wilmington, N.C., where she worked with an independent film producer on documentary and commercial projects. She is an attorney who teaches legal writing and contract drafting at the University of Mississippi Law School. Molly and I serve together on the Mississippi Bar's Intellectual Property Section, and I can personally attest that Molly is a moving force in the state.
In a free moment, Molly and I caught up on the 2012 festival:
What is your goal for this year's film festival?
The hope for this year's festival is that we can celebrate successful new partnerships with both a music festival and the Mid-South Intellectual Property Institute. We are excited to have new and great films, and we are looking forward to hosting filmmakers, journalists, musicians, attorneys and film fans from all over the country.
How has the festival changed from past years?
The festival is different every year because of the films we screen and the filmmakers and guests that attend. Because we have bigger audiences each year, we have added more volunteers to the year-round task of putting on the festival. This is the second year that the festival has produced its own community film, and we look forward to making more films in the future.
What movies are you really excited about? (This was my trick question).
I am a documentary fan, so I generally lean toward those. This year, like most years, we have a strong documentary category. I am looking forward to the screening of "Happy," "This is What Love in Action Looks Like," "Patriot Guard Riders" and "Holy Rollers." I am also excited about our secret screenings this year, one of which, "Holiday Road," received a lot of buzz at Slamdance. Our narratives, both short and feature, animation, Mississippi films—really all of it!
So what are the basic stats on the festival?
We are screening approximately 75 films in nine different categories. We have two world premieres—"Perfection" and "The 59 Team"—several regional premieres and many Mississippi premieres.
What are the top 10 things to do at the festival? After all, I want to squeeze them all in.
1. See movies. 2. Meet filmmakers. 3. Attend and learn from the panels. 4. Enjoy the music. 5. Eat lots of delicious food from Oxford's great restaurants. 6. Repeat 1-5.
With Molly's top 10 things to do in hand, I plan on being Cinderella at the ball. May the indie films roll you into the Oxford Film Festival for a great time. Festival line-up and schedule are online at http://www.oxfordfilmfest.com.