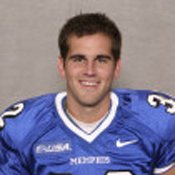 Before replacing kicking legend Adam Vinatieri, New England Patriots placekicker Stephen Gostkowski was a three-sport star for the Madison Cenral Jaguars in high-school. He was all-state in football, baseball and soccer.
Gostkowski won a state championship in baseball his senior season. He had a 16-2 record with a 1.00 ERA.
The future NFL field-goal kicker ended up going to Memphis to play baseball. He walked onto the football team and ended up earning a full scholarship. Gostkowski earned all-conference honors in both football and baseball while at Memphis.
When the Patriots faced the New York Giants in 2007, Gostkowski never got a chance to kick a field goal in Super Bowl XLII. He did, however, make both his extra-point attempts.
This season, Gostkowski missed a 29-yard field goal when the Patriots faced the Giants. He then came back to make a 32-yard field goal and a 45-yard field goal.
He also made both his extra points in that game.
New York beat the Patriots 24-20 in the regular season matchup between these two teams.
Gostkowski kicked a 29-yard field goal to get the New England Patriots back into Super Bowl XLVI yesterday after they fell behind the New York Giants 9-0. He made both his extra-point attempts, but was not a factor in the final minutes of the Giants 21-17 win. New England needed a touchdown late because a field goal would do them no good.
The Giants are now 3-0 against New England.