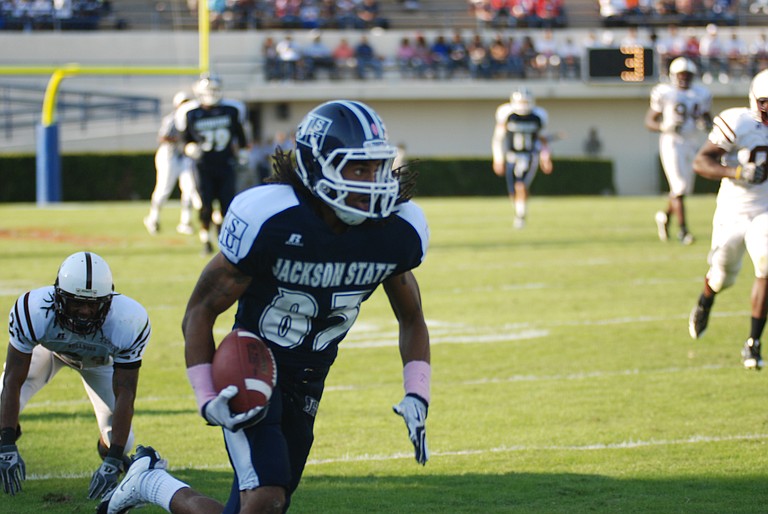 Originally published December 12, 2012 at 4:42 p.m., updated December 29, 2012 at 12:30 p.m.
College football is just about over for Mississippi teams. Mississippi State and Ole Miss still have bowl games to go, but everyone else is done. Here is a quick look at the four big schools heading into the bowl season, starting with JSU's heartbreaking loss this past Saturday.
Jackson State will look back at the 2012 SWAC Football Championship Game and wonder what might have been if a handful of plays had gone differently. The Tigers' 24-21 overtime loss to Arkansas-Pine Bluff should have been a win.
Late in the second quarter, Jackson State was driving, already up 21-7 on the UAPB 24 yard line. The Tigers seemed to have a field goal in the bag and, with time winding down, another touchdown might have sealed the game early.
Jackson State quarterback Clayton Moore dropped back to pass on a second down and five when he was blindsided by the Golden Lions' Xavier Lofton, who caused Moore to fumble. The ball was picked up by UAPB defender Bill Ross, who rumbled 73 yards for a touchdown to cut the JSU lead to 21-14 at halftime.
Neither team did anything offensively in the third quarter and for most of the fourth quarter. Jackson State was clinging to a 21-14 lead with just over two minutes left and UAPB had the ball. JSU blew coverage, and Anderson found Young, who sprinted to the end zone for a 95-yard touchdown reception and tied the game at 21-21, forcing overtime for the first time in the SWAC Championship Game.
In overtime, the Tigers got the ball first and ran three plays before missing a 43-yard field goal. UAPB opened their overtime possession with a 20-yard run by Justin Billings to get down to the JSU five-yard line.
Arkansas-Pine Bluff then kicked a field goal to win the game and their first SWAC Football Championship since 1966.
Expectations have changed in Starkville. How often in this state does an 8-4 season feel like a letdown? The Bulldogs are heading to a third straight bowl game, but fans wonder if this team could have done more.
MSU finally broke through with an SEC West win over a team not named Ole Miss by defeating both Auburn and Arkansas. If you throw out the Egg Bowl loss, three of the Bulldogs' losses came at the hands of teams that combined for a 32-5 record.
I would bet my last dollar that there is not a team in the country that can say three of their losses went to teams with that combined record and ranked in the top 10 of latest BCS standings. Even adding Ole Miss into the mix, MSU lost to teams with a combined record of 38-11, and all four of those teams are headed to bowl games.
Mississippi State might have been overvalued in the preseason but, if they had defeated Ole Miss, their losses would have been to three of the best teams in the country.
Hopes have to be high in Oxford after Hugh Freeze took an Ole Miss team only predicted to finish three wins. The Rebels were helped out by the dumpster fires in Auburn and Arkansas, but they still had to win those games. The Rebels lost to six teams that are going to bowl games and were a combined 59-15. Ole Miss also played a two tougher SEC East teams than MSU in Georgia and Vanderbilt.
Southern Miss completed the worst turn-around in college football history going from 12-2 in 2011 to 0-12 this season. The dumpster fire was so bad that not only did the Golden Eagles fire Ellis Johnson after one season; they sold next year's home game against Nebraska back to the Cornhuskers just to pay Johnson's buyout—reported to be $2.1 million, nearly the exact amount USM got from Nebraska to move the game.
Southern Miss has mishandled conference realignment by staying loyal to Conference USA when everyone else was getting out of town. Now USM has fallen from budding star mid-major program to just another small conference football team.