Wednesday, December 5, 2012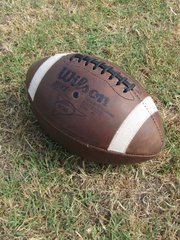 Except for Army against Navy this Saturday, the regular season of college football is over. The SEC will have a chance at their seventh title and a chance to own the top five the polls with a strong finish in their bowl games.
This is the last JFP Top 25 football poll until after the BCS National Championship Game on January 7.
Rank/ Team /Record /Previous Rank
1 Notre Dame Fighting Irish 12-0 1
2 Alabama Crimson Tide 12-1 2
3 Florida Gators 11-1 4
4 Georgia Bulldogs 11-2 3
5 Stanford Cardinal 11-2 8
6 Oregon Ducks 11-1 4
7 Kansas State Wildcats 11-1 6
8 LSU Tigers 10-2 7
9 Texas A&M Aggies 10-2 9
10 South Carolina Gamecocks 10-2 10
11 Oklahoma Sooners 10-2 11
12 Florida State Seminoles 10-2 13
13 Clemson Tigers 10-2 14
14 Northern Illinois Huskies 12-1 16
15 Oregon State Beavers 9-3 19
16 Boise State Broncos 10-2 NR
17 Louisville Cardinal 10-2 20
18 UCLA Bruins 9-4 18
19 Nebraska Cornhuskers 10-3 12
20 Texas Longhorns 8-4 17
21 Michigan Wolverines 8-4 21
22 Utah State Aggies 11-2 24
23 San Jose State Spartans 10-2 NR
24 Northwestern Wildcats 9-3 NR
25 Kent State Golden Flashes 11-2 15

Dropped out: Rutgers Scarlet Knights, Ohio State Buckeyes