Thursday, August 30, 2012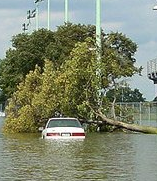 Get links to updated tropical storm/hurricane info here.
NEW ORLEANS (AP) — Nearly half of Louisiana is without power as Tropical Storm Isaac moves inland.
The Public Service Commission says 901,000 homes and businesses around the state — about 47 percent of all customers — are without power Thursday.
In neighboring Mississippi, utility companies say they are working to restore power to more than 150,000 customers in south and central parts of the state.
Isaac's center bypassed New Orleans and its newly fortified levees as a hurricane Wednesday but flooded areas to the city's north and south, where people had to be evacuated or rescued. It weakened slightly to a tropical storm but was still packing strong winds and torrential rain as it moves slowly across Louisiana.