Wednesday, August 29, 2012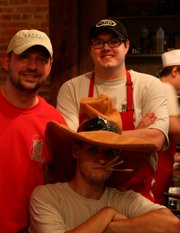 Last Thursday, four chefs gathered to pit their culinary skills against one another in the annual fundraiser Clash in the Kitchen, benefitting the Mississippi Burn Foundation. The competitors were Tom Ramsey of Underground 119, Nick Wallace of The King Edward Hotel,
Jesse Houston of Parlor Market and a surprise guest, Chef David Crews from the Delta. Each chef had 45 minutes to create three dishes using the surprise ingredient: muscadines.
While Wallace won the people's choice award, Jesse Houston was the overall winner of the night. He shared his plan of attack for the challenge.
"My approach to the secret ingredient was to use the muscadine in as many ways as possible, so that you got an overwhelming sense of muscadine, but in a completely new way. I also played with the grape theme by using grape tomatoes, freeze-dried grapes and grape seed oil and saba (syrup from grapes). The muscadine products I sourced locally and from the South were:
Cooper Farms seedless muscadines
Cooper Farms muscadine juice
Cooper Farms muscadine syrup
Alabama muscadine wine
Muscadine vinegar
Muscadine tendrils and leaves from my garden"
Jesse's dish:
Muscadine skin pasta ravioli with muscadine ricotta filling, grape tomato and seedless muscadine "puttanesca," and flowering herbs. He also made a salad of freeze-dried grapes, heirloom grape tomatoes, frozen muscadines, yogurt, saba and basil.
Plus: Nick's Dish:
"My approach was to bring my family heritage cooking style with Nick Wallace techniques... Sophisticated southern cuisine."
The Dish: Pan-seared Louisiana Triple Tail fish, muscadine confit, muscadine gremolat and crispy fish skin. Then, braised local pig heart, pig feet, muscadine Demi, local field peas and molasses powder cippolini agordolce. For dessert, Nick made house made ricotta-peach funnel cake and muscadine ice cream, with muscadine sabayon and hibiscus powder.