Wednesday, August 29, 2012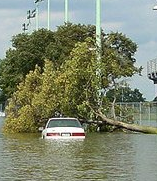 Get links to updated tropical storm/hurricane info here.
NEW ORLEANS (AP) — The director of the U.S. National Hurricane Center says Hurricane Isaac could keep its strength through the day as it lashes southeast Louisiana with rain and wind.
Rick Knabb says the storm's main area of circulation is over watery marshlands Wednesday and the New Orleans area may see another day of storm conditions because the first half of the storm hasn't moved through the area yet.
The hurricane made landfall Tuesday evening on Louisiana's southeast coast with 80 mph winds. Since then, it has pushed water over a rural levee to flood some homes, knocked out power to thousands and has immersed beach-front roads in Louisiana and Mississippi.