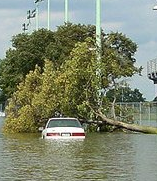 Get links to updated tropical storm/hurricane info here.
GULFPORT (AP) — Officials in Mississippi's most populated coastal county have started transporting people with special needs to shelters as the Gulf Coast prepares for Isaac.
Harrison County Emergency Operations Director Rupert Lacy said early Tuesday that nearly 600 people had signed up for the county's transportation list, though some have made other arrangements. The people who sign up don't have cars or can't drive.
Lacy says four shelters were to open in Harrison County at 8 a.m., including one for pets.
Meanwhile, Charlotte Timmons and Brenda Batey took a sunrise walk on the beach, but scurried home when it began to rain. The retired women from Long Beach said they have prepared their homes, but think Mississippi may be spared for the most part.