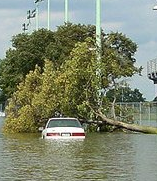 Get links to updated tropical storm/hurricane info here.
The City of Jackson continued to make preparations today ahead of Tropical Storm Isaac. City emergency personnel, public works staff and City department directors joined other officials from across Hinds County for a briefing session at the Hinds County Emergency Operations Center this afternoon. City staff members are also continuing to receive regular briefings from the National Weather Service and the Mississippi Emergency Management Agency.

Public Works crews began inspecting and clearing various drainage inlets across the City that could contribute to flooding in the case of unusually heavy rainfall. Public Works and Parks and Recreation crews are also prepared to mobilize to address downed trees and limbs in city streets and public rights of way. Please note that trees and limbs cannot be immediately cleared if there are downed power lines intermingled with them or nearby.
City officials are also reminding residents to be sure the tree limbs and other debris and materials are cleared from property lines that border the curb and from around fire hydrants. In the case of heavy downpours, materials such as tree limbs, garbage can lids, basketballs and any number of items can be carried by the rush of water and clog storm drains causing serious flooding.


CodeRED

Mayor Harvey Johnson, Jr. also reminds Jackson citizens to sign up for the CodeRED Weather Warning high-speed notification system.

The CodeRED Weather Warning system is a FREE opt-in only weather warning product that taps into the National Weather Service's Storm Based Warnings. CodeRED Weather Warning automatically alerts affected citizens in the path of severe weather just moments after a warning has been issued.
---more---
The CodeRED Weather Warning feature requires residents to sign up to be called. Residents can sign up to be alerted in the cases of tornado warnings, severe thunderstorm warnings, and flash flood warnings.

Residents may opt to sign up to be notified for one type or all three types of warnings. They can also modify their settings online at any time. Residents my sign up to be called on their land line and/or cell phone and they can sign up to receive text messages or email notifications.

Jackson residents can sign up online at www.jacksonms.gov (click on the CodeRED icon) or they can call 3-1-1 and provide their information.
3-1-1
The City of Jackson also anticipates extending the hours for the 3-1-1 call center beginning Wednesday. The exact times will be released. Residents are encouraged to call 3-1-1 to report downed trees, flooding issues and any other NON-EMERGENCY requests. Service requests may also be initiated online at www.jacksoms.gov (click on 3-1-1).


Shelters, Evacuation and Rescue
The City of Jackson anticipates opening Champion Community Center (1355 Hattiesburg Street) for Jackson residents who may need to be evacuated from their homes. The media will be notified when the shelter is opened to the public. Any other shelter openings are being coordinated through the American Red Cross.

The Jackson Police Department will work to provide necessary security at shelter sites in the City of Jackson, including shelters coordinated by the American Red Cross.

The Jackson Fire Department is prepared to assist the Jackson Police Department and Public Works crews with evacuation and rescue.

The Fire Department will also perform "wellness checks" for senior citizens.

"I urge the citizens of Jackson to take this storm seriously and prepare," said Mayor Johnson. "The City of Jackson is prepared to deploy the necessary resources and we are working with state, county and other emergency officials."

Please visit the MEMA website at www.msema.org for more information on how to prepare.

Future updates will be forthcoming.