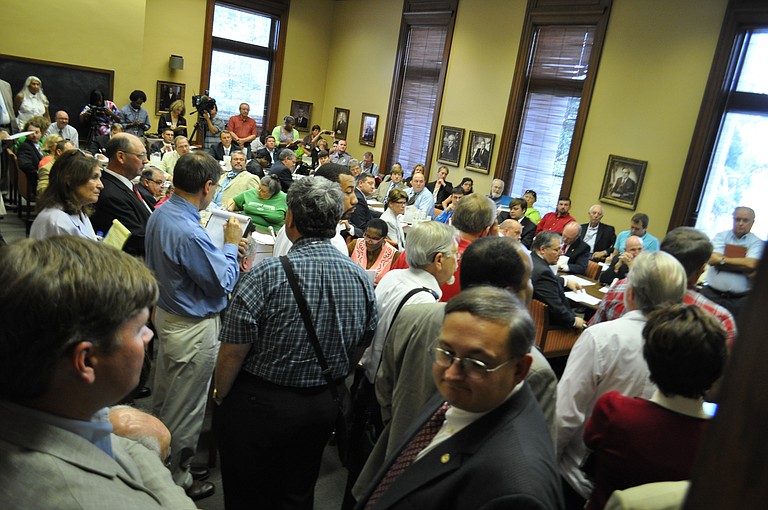 By many measures, the federal government is derelict in its enforcement of certain laws. However, states rarely engage in the practice of addressing failings of federal law in most areas. One notable exception: immigration.
Once again, in Mississippi a movement is under foot to address what many Mississippi officials believe is a scourge of illegal immigrants flooding the state's borders.
The most recent iteration of that desire played out yesterday at a meeting of the Mississippi House Judiciary B Committee on immigration at the state Capitol.
Promoted as a fact-finding mission, the committee, which Rep. Andy Gipson, R-Braxton, chairs, said its purpose was to help legislators determine whether Mississippi should introduce a new state law or modify existing regulations to address what Gipson characterized as the state's growing immigration problem.
R. Pepper Crutcher, a Jackson immigration attorney, gave a brief analysis of the U.S. Supreme Court's June ruling on SB 1070, Arizona's controversial immigration law. In a 5-3 decision, justices ruled that the federal government has the final say-so on immigration matters and ruled that the provision that criminalized immigrants' failure to carry authorizing documents with them at all times was unconstitutional. The court held off on ruling on what is widely believed to be the main thrust of the law--requiring cops to stop and detain anyone they have a "reasonable suspicion" is in the country without legal authorization.
Staff Sgt. Brad Vincent, representing the Mississippi Highway Patrol, further elucidated what Gipson deemed Mississippi's immigration problems by testifying that Mexican organized-crime organizations recruit couriers to deliver marijuana, cocaine and methamphetamine across the southeast, including in Mississippi.
Vincent explained that troopers are constantly on the lookout for telltale signs of foreign drug mules, which include old vehicles with new registrations that are also filled with personal belongings.
But even though the highway patrol can access a federal drug enforcement database, Vincent said troopers have a hard time catching repeat offenders because undocumented immigrants often use fake IDs.
"As long as the border is porous, there's nothing we can do to keep them from coming back," Vincent said.
In the ensuing four hours of the meeting, more than 40 individual citizens, business owners, local officials, advocates and attorneys spoke for or against stricter state immigration rules in an overflowing House Ways and Means Committee room. Jud B's regular, more spacious committee room is being renovated, Gipson said.
Clyde Goodwin of Copiah County feared that granting illegal immigrants access to certain state benefits would result in an undesirable slippery slope scenario.
"If they give these people driver's licenses, they're gonna be in the polling place voting," he stated.
Earlier Thursday morning, Gov. Phil Bryant issued an executive order reaffirming existing Mississippi laws already on the books prohibited undocumented immigrants from receiving state benefits.
Bryant said the order intends to protect against mistakenly awarding benefits to young people who receive deferred deportation status under President Barack Obama's recently issued executive order.
"Illegal immigration has real consequences for Mississippi, as it puts additional burdens on our already stretched budget," Bryant said in statement.
Bryant's position is a point of much disagreement in scholarly circles. In January, the University of Alabama in Tuscaloosa's Center for Business and Economic Research published a cost-benefit analysis of that state's anti-immigration law. On Aug. 21, a federal judge struck down portions of the Alabama law, HB 87, finding the law could lead to unlawful racial profiling.
Dr. Samuel Addy, who authored the study, looked at the economic effects of Alabama's immigration and determined that because economies are demand-driven, any policy that reduces demand will shrink the economy, no matter how well-intentioned.
If 80,000 undocumented immigrants left Alabama, Addy estimated a loss of 59,536 jobs for a total reduction of nearly 140,000 positions. Assuming those 80,000 people earned $25,000 per year--that's a $7.7 billion hit to Alabama's gross domestic product, another $189 million in state sales- and income-tax lost, and $66.5 million in city and county taxes, according to Addy's analysis.
Israel Martinez, a Jackson-area businessman and immigrant from Mexico, suggested that a Mississippi university perform a similar independent analysis of the impacts of a state immigration law. He also invited Gipson and Rep. Becky Curry, R-Brookhaven, who sponsored last year's failed immigration bill, to visit the homes of undocumented immigrants and listen to their personal stories.
Gipson smiled at the invitation and said he was open to both ideas.