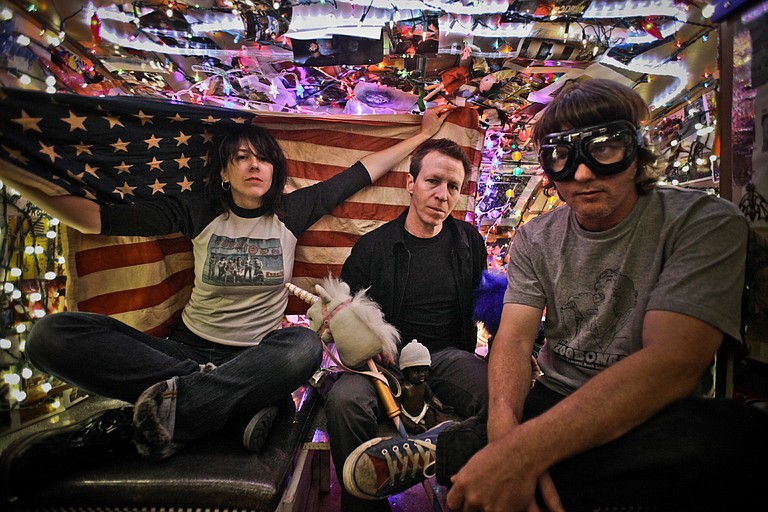 Wednesday, August 22, 2012
The River City Tanlines are back with some new sounds. The Memphis-based trio, led by singer and guitarist Alicja Trout, recently released "Coast to Coast," its first album in six years. The band is a product of the Mound City's punk and garage-rock scene and is known for energetic live shows that they bring to Jackson on a regular basis. It has expanded on its garage roots to include pop and even some metal sounds.
Trout, the band's primary songwriter, credits the range of styles on the new record to the length of time since its last record (2006's "I'm Your Negative").
"It's been a long time making the record," she admits. "There were older songs that I had written in 2007 and '08. Your mind changes over the years because it was so long in the making."
"Coast to Coast" has plenty of garage- and punk-influenced sounds, but Trout also showcases her pop songwriting skills on the record. The strong melodies of songs like "Stop My Heart" and "Pretty Please" hearken back to the classic pop-rock radio of the late '70s. The band also takes detours on the record into classic metal riffs ("Black Matter") and noisy post-punk squall ("Waiting for Nothing").
The album has built new ties to Mississippi for the band. Big Legal Mess Records, a subsidiary of Fat Possum Records in Oxford, released "Coast to Coast." Trout recorded it at Dial Back Sound in Water Valley, a studio owned by Big Legal Mess label head Bruce Watson. Although the Tanlines were reluctant to part with Dirt Nap, its previous record label, Trout could not pass up the convenience of working close to home without being in her own house
"I had too much going on to keep my house as a home studio," she says. "I didn't really want to leave Dirt Nap, but the fact that Bruce was nearby and had a studio ... we decided, 'We've got to go there.' We wanted to work with a southern label as well."
The sound of the new record is heavily reliant on the band's rhythm section, made up of bass player Terrence Bishop and drummer John Bonds. The duo played together for many years in different bands prior to joining with Trout in 2004. Bishop and Bonds have a strong musical connection that Trout appreciates.
"They are a unit," she says. "They get really mad if one of them is playing in a band and the other one isn't, unless it's a band they don't like. They function well together and know how each other works."
Although Trout and her band do not currently have a show scheduled for Jackson, the city has played an important role in the Memphian's life as a performer. Several of her past groups (including The Lost Sounds and Mouserocket) have played here, and they have always received an enthusiastic response.
"It's usually really fun down there," she says.
"(Jackson) people get into it kind of the way they do at Memphis shows. They stand up and yell at you. Something funny usually happens."
The Tanlines are hitting the road over the next few months to promote "Coast to Coast," including short tours in the midwest, northeast and Europe. After years of touring and performing for audiences of all sizes, Trout does not worry over small turnouts.
"I've never been a person who's been crushed when only 10 or 12 people are at my show, because I remember seeing (legendary Memphis garage rockers) Oblivians shows where there was almost no one there, but everyone had the best time," she says. "For me, an ideal show today is one that we're playing by midnight and not going on at 2 in the morning. ... And the P.A. works."
"Coast to Coast" is available now on Big Legal Mess Records. Buy it at Morningbell Records (622 Duling Ave., Suite 212, 769-233-7468) for $14.99. For more information on the River City Tanlines, visit http://www.myspace.com/rivercitytanlines.