Wednesday, August 22, 2012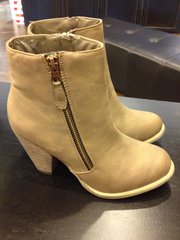 Have you ever had one of those days where you just don't feel like dressing up but you have a quick meeting? Or a lunch date? Or errands that you can't put off (again)? My friends and I like to call this easily thrown-together look for such occasions, "Model Off Duty." Translation: skinny jeans and an oversized tee, topped off with a blazer, a top-knot and a little color on the cheeks. Voila. Comfy, casual and still very chic.
For more ideas for a quick throw-together, click on the link and get inspired.
Where2Shop:
4450, 4450 Interstate 55 N., 601-366-3687;
Clothing and Closets Consignment, 898 Centre St., Ridgeland, 601-955-3304;
Coattails, 111 W. Jackson St., Ridgeland, 601-853-1313;
ImYourPresent, imyourpresent.com;
Frock Fashions, 111 Colony Crossing, Suite 160, Madison, 601-898-4643;
William Wallace Salon, 2939 Old Canton Road, 601-982-8300