Wednesday, August 15, 2012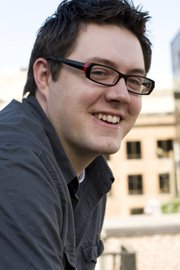 It seems like Jesse Houston won't be satisfied until he's put his spin on every cuisine in town. In addition to running the popular downtown eatery Parlor Market as its Chef de Cuisine, Houston regularly surprises local foodies with one-night-only pop-up restaurant events.
The latest iteration is PM Pizza, a collaboration with pizza joint Sal & Mookie's Aug. 20. "I would always bug Jeff (Good) and Dan (Blumenthal, owner and executive chef) about letting me come hang out for a night and make pizzas somewhere, just for fun," Houston says. "So one day I went to Sal & Mookie's and I just couldn't take it anymore. I was like, 'You've got to let me come make pizzas.' At first ... I wasn't really thinking it was going to be a big deal. But then they were like, 'Well, why don't we turn it into PM Pizza?'"
"It was really Jesse's brainchild," Blumenthal says. "I knew that if he was really ever going to get serious about doing the pop-up idea with pizzas, he wasn't going to be able to do it at his restaurant—he didn't have the room. So he basically said, 'Why don't we do PM Pizza and do it at your place. ... I'm not selfish, I just want to have fun. We can do it, and you can take all the proceeds.' So I thought, 'Wow, this could be interesting.' I've been to probably two of their PM events, and they are very successful—crazy, but successful."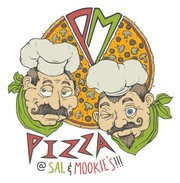 For Houston, the event is really a return to a style of cuisine he is already familiar with. When he first began his culinary career, he made pizzas at three of his first jobs: ASTI in Austin, Texas, and Stephen Pyles and Five Sixty by Wolfgang Puck, both in Dallas, Texas.
"At the time, I was like, 'Man, I just can't get a job without a pizza gig,' you know?" He says. "It was frustrating. But as time went on, and I hadn't made pizzas in forever, I really started to miss it because they're a lot of fun to make."
When it came to crafting the menu, Houston and Karl Gorline, sous chef at Sal & Mookie's sister restaurant BRAVO!, put their heads together to come up with the most interesting pizza combinations they could, and then Blumenthal took over to tweak the menu. The pizzas will be the 14-inch size, the same as the Sal & Mookies small pie. Blumenthal says he is most looking forward to the Charcuterie Pie. "It's basically seven or eight charcuterie-type meats on a pizza. As Jesse says, it's an entire charcuterie board on a pizza," Blumenthal says.
As for Houston, he's most looking forward to a Korean-inspired pizza and a couple of quirky pies. "The pork-belly pizza with kimchi—think that's going to be really good," he says. "And then there's Karl's Mona Lisa pizza sandwich, which is kind of like a pizza with another pizza on top of it, so you can eat it like a sandwich. And we're doing one called Pizza the Hut, which will be like a Pizza-the-Hut-shaped calzone and will kind of look like the guy from 'Spaceballs.'"
PM Pizza will continue the tradition of one $1,000 extravagant menu item. This time, it is a pizza served on a silver platter, with a bottle of Champagne. The pizza toppings are lobster, caviar and black truffles, and garnishments of edible flowers and gold leaf.
"We've only sold one (of the $1,000 burgers),"Houston says. "It was at the first PM Burger, and the couple that bought it wish to remain anonymous. And they thought about buying one the second time around, but I think better sense got a hold of them. But we definitely plan on selling the $1,000 pizza. I think it's really going to happen. Maybe even multiples this time around. Jeff Good is a good salesman."
Collaboration—and lifting up the whole community by working together—is something the chefs and their respective organizations feel strongly about. Previous PM events have involved local restaurants Peaches on Farish Street and Brent's Drugs on Duling Avenue. PM Pizza not only incorporates the creativity of the teams at Parlor Market and Sal & Mookie's, but also local artist Justin Schultz, who designed the graphics, and Studio Chane's T-shirts.
"I really like to collaborate with people," Houston says. "I have a lot of fun with other chefs, too, doing a lot of other events."
PM Pizza is Monday, Aug. 20, at Sal & Mookie's New York Pizza and Ice Cream Joint (565 Taylor St., 601-368-1919) from 4:30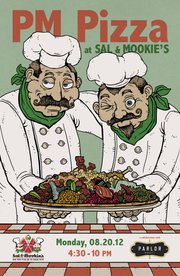 Taking Over Jackson
This is the eighth PM event, following:
PM Burger
PM Taco
PM Steak
PM Soul
PM BBQ Birthday Bash
PM Tiki
PM Burger 2
Pop-Up Video
In true pop-up style, the event was announced suddenly last week with a video hitting the Internet of Houston surreptitiously (albeit somewhat bumbling-ly) sneaking into the kitchens at Sal & Mookie's after hours. The video is a new way to spread the word about PM events, which have until now been promoted mainly via Facebook and word of mouth.
"Liz Lancaster (our marketing, promotions and event planning manager) has done a fantastic job," Blumenthal says. "It was Liz's idea to do the video, and Jesse's creative people got together to do it."
http://www.youtube.com/watch?v=SlByLROdMmo