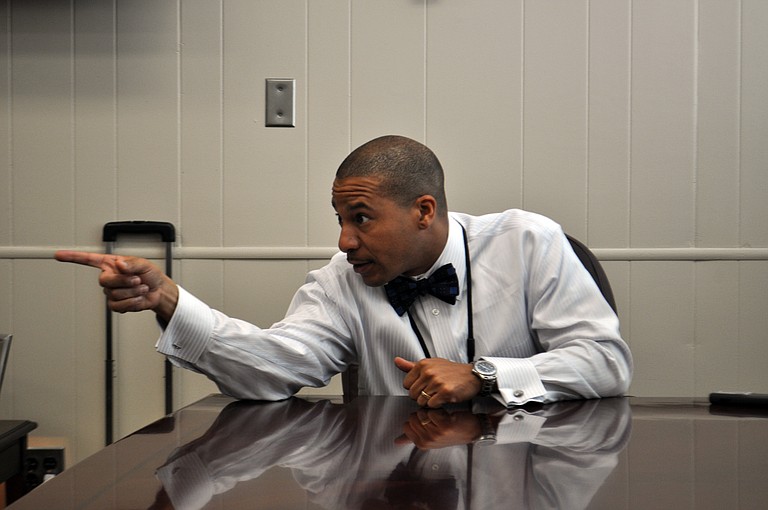 Originally published August 9, 2012 at 1:28 p.m., updated August 9, 2012 at 5:34 p.m.
JACKSON — When new Jackson Public Schools Superintendent Dr. Cedrick Gray put the kibosh on a basketball tournament at Lanier High School in July, some people might have gotten the impression that Gray isn't into sports.
That impression would be false. In fact, the Memphis native is a rabid fan of the Tennessee Titans and Memphis Grizzlies and compares his role at JPS to that of a head coach.
"The coach doesn't play; the coach sets the tone," Gray told the Jackson Free Press this morning.
When students file back into classrooms to begin the new school year tomorrow, in many ways it is the first day of the season. Gray said the period since his arrival in July until now has been "training camp." He's distributed a playbook in the form of his superintendent entry plan and seems ready to let his "assistant coaches"--staff and faculty--run the game.
To belabor the metaphor just a bit more, this is a rebuilding year for JPS, the state's largest urban school system. In addition to the entry plan, Gray outlines three areas on which he would like to focus: early childhood education, K-12 literacy and adolescent issues.
A former middle-school principal, Gray has a soft spot for students in this age group, which is where problems that blossom later in life begin to manifest.
"There is no secret that we start to lose children at age 10," Gray said. "The misnomer is that dropouts happen in high school. Well, they don't. Dropouts happen as early as third grade. It's a pretty clear indicator that if a child isn't enjoying school by age 10, they start to lose their focus for it."
Gray came to JPS from Fayette County schools in Tennessee, where he also served as superintendent. He has been a principal in two Memphis schools and worked in professional development in Memphis.
Gray, his wife, Karen, and their daughter live in north Jackson.