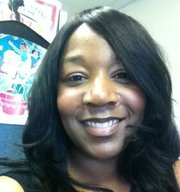 Fans at Jackson State football games and a band performances this fall may notice two things they've never heard before: a female announcer for the Sonic Boom of the South and an announcing duo.
Allison Washington, a 2009 graduate of Belhaven University and former member of the Sonic Boom of the South, won the first-ever open auditions for band announcer. Interim band director Dowell Taylor held the auditions during the J-Sette dance team tryouts July 20-22.
Soon after she became the school's first-ever female announcer. Washington found out she would not be announcing the band's entrances alone. After the auditions, Taylor appointed Richard Meyers, the current PA announcer at Veterans Memorial Stadium, as Washington's co-announcer for the Sonic Boom of the South.
"(Co-announcers) is brand new for me for the time I've observed and marched with the Sonic Boom," Washington said.
She isn't certain the decision to assign a co-announcer is sexist, but she isn't ruling out the possibility.
"I'm not 100-percent certain, but it's such a big coincidence that it could lead someone to believe that," Washington said.
Washington said she met with Taylor about a week after the audition and asked him why he appointed Meyers her co-announcer when there has never been more than one Sonic Boom announcer at any time in the past.
"He said, 'We're moving into a new direction with a new attitude,'" Washington said.
Taylor told her that she can get together with Meyers and work out a plan for how to approach their duties, something that will do justice for the Sonic Boom.
"I can't make my band look bad," Washington said.
JSU music department chair Jimmie James served as Sonic Boom announcer for decades, Washington said, until he retired in 2008. Since then, band leaders have appointed the announcer.
Washington said she saw the flyer for the tryouts online July 19, the day before the tryouts. She said it was like fate pointed her to it.