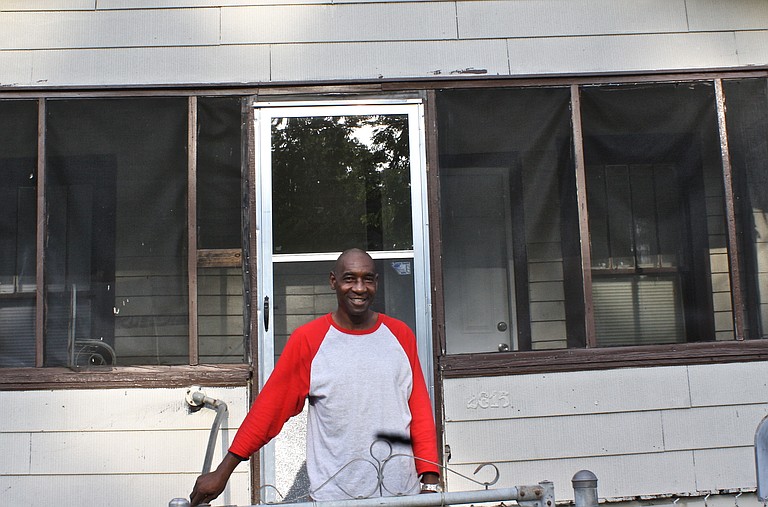 Wednesday, August 8, 2012
JACKSON — Some believe goodwill may have triumphed when the Jackson City Council shelved Ward 1 Councilman Quentin Whitwell's amendment to the city's panhandling ordinance July 30.
Seeing the Council reconsider the amendment, which would have tripled the fine and implemented longer jail sentences for illegal panhandling, comes as a relief to those who depend on panhandling for survival.
Raymond Quarles was one of those people. He lived on the streets of Jackson for more than five years, beginning in 2005 after an accident while working on an offshore drilling rig left him with a broken back.
Within a few months, his wife divorced him, and his mother died, leaving him with the funeral expenses. When his disability check could no longer cover his rent, he moved from Brookhaven to Jackson to find a place to sleep.
In the first few months after he arrived, police harassed Quarles every day for panhandling. He said they arrested him at least 10 times--twice a week for a couple of months. Things changed, though, when officers got to know him and realized he did not mean any harm to anyone, he said. After that, Quarles began obeying the law. He became the "Bucket Man," always carrying a bucket with soap and a few rags so he could wash cars 
for money.
During a stint in a Baton Rouge homeless shelter in 2011 and early 2012, Quarles was able to save up his disability money, and he found a home in Vicksburg, where he has lived for about six months.
If the city wants to put a stop to panhandling, Quarles said, it needs to spend money to help the homeless find work and permanent housing, instead of "trying to get blood from a turnip." He said exacting a fine from people who don't have anything only creates a revolving door of crime. That effort needs to start with church leaders, though, not the city. A self-professed minister, Quarles added that if churches get involved, the city would see a drastic decrease in crime and homelessness.
"If the churches were functioning in the communities the way God ordained them to, then the communities wouldn't be as bad as they are," Quarles said at his new home in Vicksburg July 26. "Because the church leaders are not in the communities doing what they're supposed to do in the communities, the drug crime 
is overflowing."
Ward 6 Councilman and new Council President Tony Yarber, an active church leader, had a similar response when asked whether it is the city's or the churches' responsibility to take care of the homeless.
"The pecking order lies with the church first," Yarber said. "That's the first call of 
the church."
The city's plan to help homeless people has a serious problem, though, Yarber said. The city has to empower faith-based organizations that are creatively and actively working to help those living in poverty to find ways to deal with poverty and social-justice issues.
Whitwell agreed that charity is not the Council's job.
"I support a lot of those (charitable) efforts on an individual efforts, but that's not the job for government. That's the job for do-gooders," Whitwell said. "I consider myself to be one, too, but not in this realm."
The proposed amendment would raise the penalties for panhandling, called "commercial solicitation" in the city ordinance, including tripling the fine, already $1,000 for a third offense, and lengthening jail time for multiple offenses. The amendment would not redefine illegal panhandling in the city.
The current ordinance sets penalties for soliciting in certain locations, between sunset and sunrise and for "aggressive" solicitation. Passive soliciting, such as holding a sign asking for money, in legal areas during the day is permitted by law.
Yarber said Aug. 3 that the Intergovernmental Committee voted July 30 to keep the amendment in committee while council members reviewed the existing ordinance. Whitwell formerly chaired the committee, but as of Aug. 1, Ward 4 Councilman Frank Bluntson is the committee chairman. The change came as part of Yarber's rearranging of the council committees.
Whitwell is vice chairman of the committee. He said Aug. 6 that he believe Bluntson will work with him to keep the 
amendment moving.
Since he has brought the ordinance back into the spotlight, police have begun enforcing it again, Whitwell said.
As for Whitwell's amendment to the city ordinance, Yarber said council members expressed a desire to compare the city's existing ordinance to panhandling ordinances in other cities. That, he said, will take time.
Whitwell said Aug. 6 that he has received ordinances from Memphis and Atlanta, as well as other cities for comparison.
Bluntson said last week that he has never supported fining someone for panhandling.
"How do you (give) a person a fine when they're begging for something to eat? So we can't do anything but put them in the jail and feed them three meals a day. And we're still paying for it. It doesn't make any sense," 
Bluntson said.
Whitwell pulled the amendment back into committee during a city council meeting July 24, after Bear Atwood, legal director of the state ACLU, and other council members raised questions of the ordinance's constitutionality. Atwood said it violated First Amendment rights of free speech.
Whitwell disagreed. He said at the meeting that commercial solicitation is not 
free speech.