Wednesday, August 8, 2012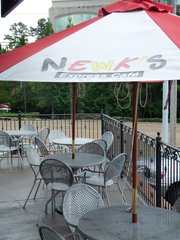 Looking for a good meal that isn't fast food, but hearty and affordable? Plenty of restaurants around the Jackson area are college-student friendly and easy on a budget. Instead of going the fast-food route, try these—they all have menu items that come in under $10.
Burgers & Blues
1060 E. County Line Road, Suite 22, Ridgeland, 601-899-0038
Burgers & Blues has many burgers to choose from as well as salads, wraps, hot dogs and desserts. The four-ounce burgers are under $10.
Corner Bakery
108 Market St., Flowood, 601-919-9797
Corner Bakery serves breakfast, lunch and dinner including sandwiches, paninis, pasta, fresh salads and homemade soups. Try the club Panini for $7.70.
Primo's Café
2323 Lakeland Drive, Flowood, 601-936-3398; 515 Lake Harbour Drive, Ridgeland, 601-898-3600
Primo's Café has something to offer everyone's taste buds. They serve breakfast dishes, blue plate specials, salads, sandwiches, baskets and fresh bakery items.
Genghis Grill
121 Market St., Flowood, 601.633.2000
Build your own stir-fry bowl at Genghis Grill just the way you like it. The small and medium bowls are under $9.
Newk's
Multiple Locations, http://www.newkscafe.com
Newk's offers a variety of sandwiches, pizzas, salads and soups. One popular item is the Newk's Q for $7.90.
OEC
Multiple Locations, http://www.oecflowood.com
OEC offers yakimeshi, sushi rolls, vegetables, and even hibachi mostly priced under $10. It's a great take-out option as well.
Wingstop
Multiple Locations, http://www.wingstop.com
Wing Stop offers wings, chicken strips, and fries with nine delicious flavors.
Keifer's
705 Poplar Blvd., 601-355-6825, 120 N. Congress St., 601-353-4976
A Jackson classic, Keifer's has great hummus and gyros, and tons of outdoor seating.
Basil's
904 E. Fortification St., 601-352-2002; 2906 N. State St., Suite 104, 601-982-2100
Basil's paninis are heavenly, as are the prepared penne, butterfly and rotini pastas.
See the definitive guide for college students and newcomers to Jackson at Jackpedia.com