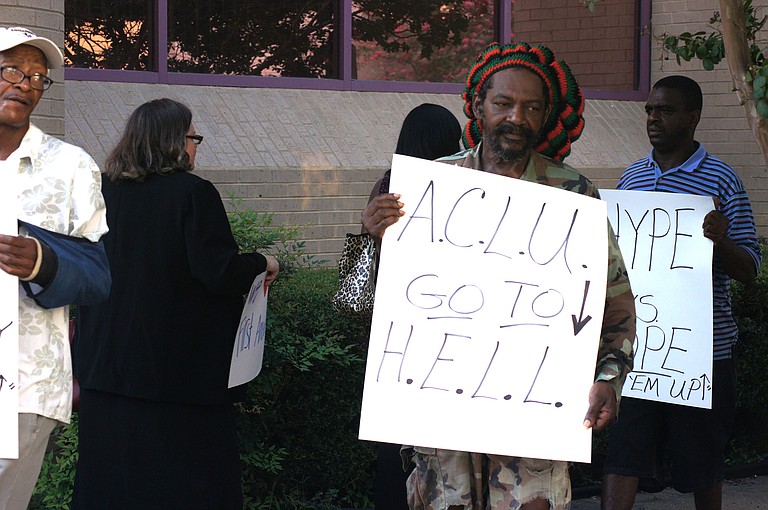 Originally published August 6, 2012 at 1:40 p.m., updated August 6, 2012 at 3:51 p.m.
JACKSON — "I couldn't be further from the Southern Poverty Law Center and the ACLU, but I'm gonna vote the way y'all want," District 4 Supervisor Phil Fisher told an SPLC employee before this morning's hearing on a proposed countywide sagging pants ordinance.
Fisher, who believes the ordinance isn't enforceable, said he had to attend a gun show over the weekend just to get his conservative bearings back after siding with the ACLU and the SPLC.
More than a dozen people spoke on District 5 Supervisor Kenneth Stokes' proposal to impose nominal $10 fees on anyone caught wearing their pants low in Hinds County. Stokes characterized the popular fashion trend as indecent, disrespectful and reflective of a mindset that would choose backstage passes to a Jay-Z concert over a full Ivy League scholarship.
"The way we get out of this jail problem is to give them some jobs," Stokes said. "No one is going to hire you with your pants hanging down."
Limited employment prospects served as a common refrain for those who spoke in favor of Stokes' bans. Enoch Sanders, who wore tattered military fatigues that exposed his bare legs, said he hoped the anti-sagging ordinance would stop people from embarrassing themselves.
"I'm not recommending anyone like that for work," Sanders said. "It doesn't look like you want to work. You look like you want to be a thug,"
Sanders also participated in a protest where demonstrators carried signs equating sagging pants with public nudity and admonishing the American Civil Liberties Union, which staged its own rally against Stokes' ordinance this morning.
Bear Atwood, legal director for the Mississippi ACLU, said the dueling protests are what the First Amendment is all about. Atwood said sagging is also a form of constitutionally protected speech.
"Government cannot stop speech based on whether government likes it," Atwood said. She and other citizens who oppose the ban said the county should devote resources to youth community programs instead of what they describe as "criminalizing fashion."
Cassio Batteast, Jacksonian and founder of FAITH Inc--Fathers Active in their Hoods--said sagging isn't always just about fashion. Some young men whose families can't afford better fitting clothing sag their pants to avoid taunting, Batteast said.
District 3 Supervisor Peggy Hobson Calhoun and others questioned why supervisors haven't sought to ban popular female fashions that could also be considered indecent. Calhoun said she changed her stance from supporting the ordinance to opposing it.
Later in the meeting, supervisors voted to contract with White Construction to perform a needs assessment to repair a housing pod of the Hinds County Detention Center in Raymond destroyed during a disturbance last week.
Stokes--who has called for building a brand new county jail--objected, saying that the move looks like the board is running from its commitment to construct a new facility.
Calhoun said the board would have to issue a bond to raise the $60 million needed for a new jail, and it was necessary to make fixes to the existing facility in the meantime.
Stokes doubted the figure Calhoun quoted. "We don't need no $60 million jail. We don't need a jail with 1,200 beds. What are we going to do put everybody in jail?" Stokes said. "Robbers and murders, those are the people who need to be in jail."