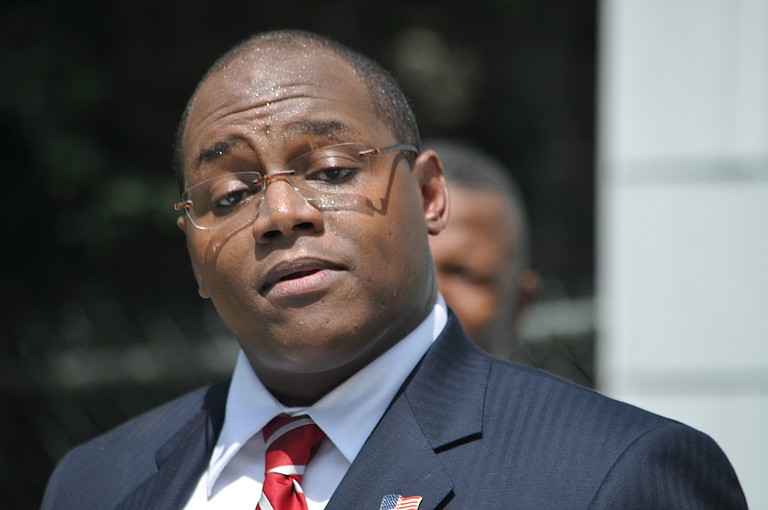 JACKSON — The Jackson Chamber of Commerce is no longer sponsoring Koinonia Coffee House's signature Friday Forum event. Jonathan Lee, the longtime moderator of the Jackson Chamber of Commerce-sponsored event, made the announcement this morning.
Lee said accusations that he was using the west Jackson forum as a political soapbox prompted the change. Lee, 34, officially announced his candidacy for Jackson mayor Tuesday.
Given his political aspirations, Lee said the chamber presented Friday Forum organizers with an ultimatum: Have Lee withdraw as moderator, or the chamber would yank its financial sponsorship.
"I will not step down," Lee told this morning's audience.
Lee suggested that the July 6 visit to the forum by Alcorn State University President Christopher Brown caused tension between the Chamber and City Hall. Before Brown's visit, he said the school would exercise its option to hold the popular Capital City Classic football game against archrival Jackson State University at its home stadium in Lorman this fall.
Jackson Mayor Harvey Johnson Jr.'s administration drew fire for not doing enough to keep the game, which is one of the city's largest events and a tremendous revenue generator.
"We can't pull the president of Alcorn out of our back pocket in three days to make the city of Jackson look bad," Lee said this morning, adding that Friday Forum guests are booked months ahead of time.
Calls to City Hall were not immediately returned this morning. David Watkins, president of the Jackson Chamber of Commerce, said he didn't know Lee was running until he saw the Jackson Free Press July 15 interview, which preceded Lee's official announcement.
Afterward, Watkins and other chamber executives asked Lee to step down as Friday Forum's host to avoid the appearance of impropriety at the officially nonpartisan forum. Watkins estimates the chamber provides $200 to $300 a week for food and other support of the event.
When Lee balked, the chamber decided to discontinue its underwriting of the event so that the chamber wouldn't be put in a position of having to defend itself against charges of political favoritism, Watkins said. He declined to comment on the purported dust-up with City Hall.
Watkins added that the chamber's minority outreach and community involvement would continue even though the organization is no longer sponsoring the forum. Lee said that Friday Forum is now looking for new sponsors.